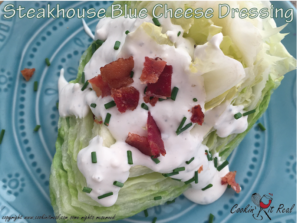 I am the first to admit that I haven't always been a fan of blue cheese dressing.   That was, until one special dinner out,  when in all its glory, it was served  atop a cold, crisp wedge of iceberg lettuce, sprinkled with little crunchy bits of bacon heaven and placed before my husband.  I had never before seen something so thick,  yet so creamy…and white (strange thing to remember, I know) so white that you could never imagine that  it was bursting with blue cheese.  I still remember that first bite…afraid, yet willing to try it, hoping that it would taste as good as it looked.  It doesn't take much imagination to guess how it ended. 😉  I consider it an awakening of sorts.  Since then, I have sampled many a blue cheese, hoping to replicate that subtle, slightly salty yet not overpowering flavor.  I am happy to report back to you all, that I have found what I consider to be the perfect blue cheese from which to make the perfect blue cheese dressing.  You are going to think this is crazy, but the blue cheese that makes it all happen, is Kirkland brand Creamy American Blue Cheese.  Yes, you read that correctly, the blue cheese with the Costco label on it.  CRAZY! I know, but true.  Sometimes you find just what you are looking for in the darndest places!
This blue cheese dressing is thick yet creamy.  Subtle yet very satisfying.  Clean and pure without too many other influences like red wine vinegar or Worcestershire sauce.  Make it your own and add a little extra blue cheese to please the blue cheese lover in your family, or thin it out a little and make it more pourable by adding a touch more milk or buttermilk in the end.  Anyway you serve it, it is sure to please.  Enjoy!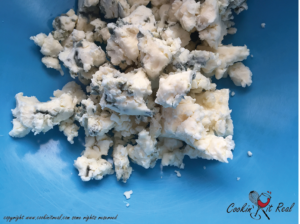 Crumble blue cheese in a medium bowl.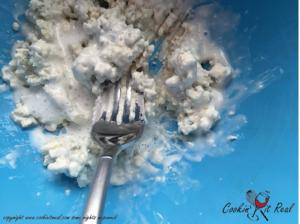 Combine blue cheese and buttermilk or milk.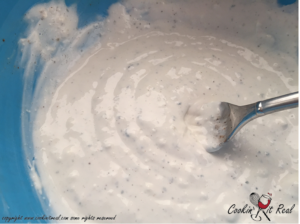 Stir all ingredients together to achieve creamy goodness!
Steakhouse Blue Cheese Dressing
Recipe type:
Salad Dressing
Ingredients
¼ cup to ½ cup blue cheese, crumbled (I go for it and add the full ½ cup)
2 tablespoons buttermilk or milk, plus more for thinning dressing at the end (honestly, unless you already have buttermilk in the fridge, it tastes just fine with milk)
2 tablespoons mayonnaise
¼ cup sour cream
2 teaspoons white vinegar
¼ teaspoon salt
⅛ teaspoon garlic powder
⅛ teaspoon fresh ground black pepper
For the salad:
1 head of iceberg lettuce, quartered
2 slices of crispy cooked bacon, crumbled
1 teaspoon chives, chopped
Fresh cracked black pepper
Instructions
Place the crumbled blue cheese into a medium bowl and mash well with a fork.
Pour in the milk or buttermilk and use a whisk to combine completely.
Add mayo, sour cream, vinegar, salt, garlic powder and pepper and stir well.
Check for consistency at this point. If you prefer a thinner dressing, add a tablespoon or two of milk at a time and stir to combine. Check consistency before adding more liquid.
Cover and place in refrigerator for at least 30 minutes to help meld the flavors.
Stir well before drizzling over lettuce wedge.
For lettuce wedge:
Remove core from lettuce by firmly hitting the lettuce, core side down, against the counter. You should be able to easily remove the core with a little wiggle and pull.
Quarter the head of lettuce. If you would like the wedges smaller, half each quarter one more time. ( You will either have 4 large wedges, or 8 small wedges)
Place each wedge on a salad plate, drizzle or heap dressing evenly on top, sprinkle with crumbled bacon, chives and a few grinds of black pepper and enjoy the awesomeness!