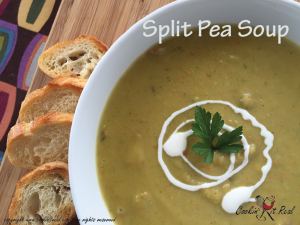 When the split pea soup gets made,  it is officially Winter at our house.  I've been making this soup for  twenty-five years and it's been in the family for over forty.   Loaded with ham, this hearty soup is one you will enjoy for years to come.   I hope that you will enjoy our family tradition as much as we do!
Split Pea Soup
Prep time:
Cook time:
Total time:
Ingredients
1 ham bone
4½ cups water
2 cups chicken stock
1 bag dried split peas, rinsed (about 2 cups)
5-6 green onions, finely chopped
2 carrots, finely chopped
1 celery stock, finely chopped
a pinch of sugar
½ teaspoon marjoram
⅛ teaspoon freshly ground black pepper
1½ cups milk
1 cup heavy cream
1 cup diced ham (I use the thick slice of bone in ham you can find in the meat department)
Instructions
In a large soup pot combine the ham bone, water, chicken stock and rinsed split peas.
Bring to a boil over medium heat and skim any froth from the surface.
Reduce the heat and simmer for 30 minutes.
Add the green onions, carrots, celery, sugar, marjoram and pepper.
Simmer, stirring occasionally for 30-40 minutes until the peas are soft.
Remove the ham bone, turn off the heat and gradually stir in the milk and cream.
At this point, add the soup to your blender and puree to achieve your desired consistency. ( I like my split pea soup nice and smooth)
Return soup to the pan and sample, adding salt if necessary. (I usually add 1-2 teaspoons at this point. Just remember that the ham will add a bit of saltiness to the soup as well)
Add diced ham and simmer the soup for 10 more minutes.
Now you can decide how you prefer your soup...thicker, at which point if it isn't thick enough, either cooking it a little longer, or putting it in the refrigerator overnight should do the trick. Or thinner, you can add water or stock in small increments, stir and continue until you are happy with the consistency.
After refrigerating overnight, the soup will thicken, no matter what. When reheating, adding a little water is all it takes to bring it back to its original consistency.
Enjoy!