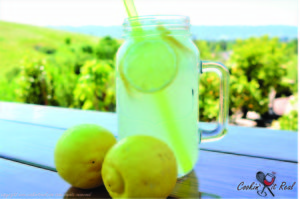 Good old fashioned lemonade.  Pure and simple.  Life can get a little crazy these days.  A glass of homemade lemonade can help take you  back to a simpler time.   As always, have some fun and make it your own! 
Make it pink by replacing 1 cup  or more of the water with cranberry juice. 
Go all melon on it and puree 4 cups cubed water melon in  a blender.  Finish by straining it through a fine sieve.  Place three tablespoons of the puree in a glass, finish it off with the lemonade, stir and serve on the rocks. 
Feeling really adventurous?  Drop two small cucumbers into a blender, strain over a bowl until you've got at least a cup of liquid.  Combine with lemonade and serve over ice. 
And if it's been a really rough week,  feel free to add something a little stronger!  Double or triple the recipe if you are serving a crowd.

Old Fashioned Lemonade
Prep time:
Cook time:
Total time:
Ingredients
4 cups water
¾ cup white sugar
¾ cup fresh squeezed lemon juice (remove seeds)
Instructions
Microwave one cup of the water on high for approximately 2 minutes. Add sugar to create a simple syrup. Stir to dissolve. Once dissolved, refrigerate to cool.
Strain lemon juice of any seeds, leaving any pulp with the juice.
In a large pitcher, combine cooled simple syrup, lemon juice and the remaining water. Stir well.
Taste. Want it sweeter, stir in an additional tablespoon of sugar at a time. Want it more tart, add a tablespoon of lemon juice at a time and taste.
Want more? Double the recipe!
Enjoy!