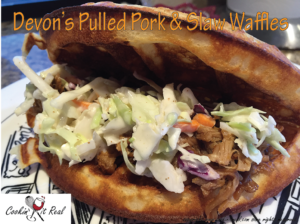 Just  a couple of weeks ago the family headed down to So Cal for the Water Polo Junior Olympics…during our travels we always make a point of trying fun and different food.  On this trip we were introduced to our new favorite chain restaurant…Bruxie.  Imagine your favorite breakfast or lunch fixin's  sandwiched between the most amazingly light and crispy waffle you have ever had.  Who knew something so simple could be so incredible!  I think we ate there three times during the week that we were in the L.A. area.  Simply addictive…  My youngest, Devon, couldn't get enough of their pulled pork waffle, so he decided to give it a go himself when we got back home.  He researched the recipes for the waffles and the coleslaw with some minor tweaks and used our old family favorite recipe for the pulled pork.  I gave him free reign of the kitchen with me as his sous chef.  This recipe is his…completely.  We had it for dinner a second night because it was so good.  Enjoy.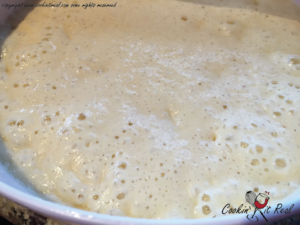 Batter will bubble and rise because of the addition of yeast.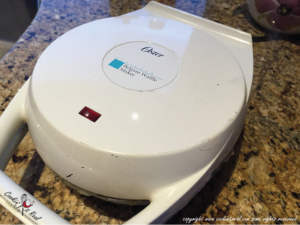 If I can do it with this 25 year old waffle iron, anyone can do it!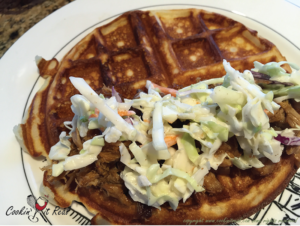 Add toppings and fold the waffle in half.
Devon's Pulled Pork and Slaw Waffles
Prep time:
Cook time:
Total time:
Ingredients
Waffles:
2 cups flour
1½ teaspoons Rapid Rise active dry yeast
1 teaspoon sugar
½ teaspoon salt
1 stick butter, melted
2 cups milk, warmed to 110 degrees
2 eggs
Coleslaw
¼ cup granulated sugar
1 teaspoon celery salt
1 teaspoon dry mustard
¾ cup mayonnaise
2½ tablespoons white vinegar
1 bag precut coleslaw mix
Pulled Pork
3 tablespoons salt
2 tablespoons pepper
1½ tablespoon sweet paprika
1 tablespoon granulated garlic powder
1 tablespoon brown sugar
1-4 pound boneless pork shoulder roast
2 tablespoons vegetable oil
one third cup apple cider vinegar
one third cup white vinegar
2 teaspoons white sugar
one third cup of your favorite bbq sauce
Instructions
For the Waffles:
Whisk the flour, yeast, sugar and salt in a large bowl.
Combine the melted butter and warmed milk in a separate bowl. Add to the dry ingredients.
Whisk eggs and add to the other mixture. Whisk until well combined.
Cover the bowl with plastic wrap and place in the refrigerator.
You can actually make this batter 24 hours in advance...which is awesome if you are planning on making breakfast waffles. If not, allow at least 30 minutes for the batter to rise. I suggest starting the batter when you start the pulled pork.
Stir the batter gently to knock it down a bit before pouring onto waffle iron.
Lightly butter the waffle iron using a cooking brush. Be careful not to add too much batter...this batter will expand a little more than your typical waffle batter.
These waffles made with yeast instead of baking powder are much more savory and leave the house smelling like fresh baked bread. Mmm.
For the Coleslaw:
Combine sugar, celery salt, dry mustard and mayonnaise and white vinegar in a small bowl.
Mix well, cover and set aside in refrigerator to incorporate flavors.
When ready to eat, add the dressing to the coleslaw and mix well.
For the Pulled Pork:
Preheat oven to 300 degrees.
Mix together the salt, pepper, paprika and garlic powder.
Sprinkle on the pork making sure to cover completely.
Now sprinkle with brown sugar and pat the seasonings onto the pork.
Heat oil in a large Dutch oven over medium-high heat.
Add the pork, turning once to brown both sides, cooking about 8 minutes.
Prepare two 2-3 foot long pieces of aluminum foil. Place one sheet on top of the other and transfer pork to foil. Wrap and seal in first sheet of foil, followed by the second sheet.
Place wrapped pork on a baking sheet and roast until tender, about 4 hours.
Remove pork from the oven and carefully unwrap the top of the pork (lots of hot steam here!)
Increase the oven temperature to 450 and roast for another 20 minutes.
Transfer the pork and any tasty juices to a large bowl.
Using two forks, shred the pork.
Combine the vinegars, white sugar and bbq sauce.
Add to the pork and toss to combine.
Place a waffle on each plate, pile with pulled pork, coleslaw and extra bbq sauce if desired. Fold waffle over and serve immediately. Enjoy!