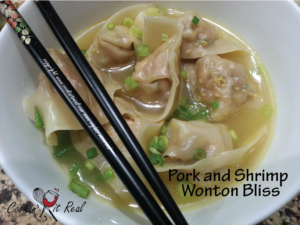 Who doesn't love wontons?  Even more, I love the idea of being able to make my own.   These little bites of goodness are so easy to make, too.   I love being able to add my own fresh ingredients and creating a meal my family would have otherwise gone out for, or picked up in the freezer section.  Don't be afraid to make these.  I will show you that the actual forming of the wonton will be quick and easy once you have made a couple.  Floating like little pillows in their savory soy and sesame oil kissed chicken broth makes them an especially fantastic family meal this time of year.
Little bites of goodness!
Pork & Shrimp Won Ton Bliss
Prep time:
Cook time:
Total time:
Serves:
approximately 30 wontons
Ingredients
Wontons
⅓ pound ground pork, preferably coarsely ground
⅓ pound raw shrimp, chopped
⅓ cup shitake mushrooms, chopped
3 green onions, chopped
1 tablespoon fresh ginger, grated
1 garlic clove, minced (I just use the same grater I do to grate the ginger)
1 teaspoon sesame oil
1 tablespoon rice wine
2 teaspoons soy sauce
1 tablespoon oyster sauce
1 package wonton wrappers
Broth
6 cups chicken stock
1 cup water
1 teaspoon sesame oil
2-3 tablespoons soy sauce
2 tablespoons chicken bouillon base
Instructions
Begin by combining ground pork, shrimp, mushrooms and green onions in a medium bowl.
In a small bowl mix together ginger, garlic, sesame oil, rice wine, soy sauce and oyster sauce.
Add sauce to other ingredients, mix well.
In a large pot, combine all ingredients for broth. Bring to a boil stirring occasionally then turn off heat.
Lay out four wonton wrapper at a time.
Place 1 teaspoon of filling onto center of each wonton. If you are worried about folding the wonton, error on the side of less filling to make folding it easier.
Have a small bowl of water ready, and dip your finger in the water using it to moisten all sides of the wrapper. (this will act like the glue that will hold your seams together)
Fold the wrapper in half to create a rectangle.
Press the top center together with one finger. Now you can pick up the wonton to easily finish evenly sealing the top edge.
Place the wonton back on the work surface and now starting at the edge of the filling, slowly seal the sides, pressing any air pockets out as you seal both sides. (Do not get filling under the sealed edge...it will not hold)
Now that you have your sealed rectangle, turn the wonton so that the long sealed edge is away from you.
Like a collar on a shirt, fold up this sealed edge and bring the two side of the wonton toward you. (You are folding the fourth side that is rounded, in on itself.) This basically folds the wonton in half.
Last step, wet the corners that you just folded towards you and over lap them pressing them together to create the final wonton. (see pictures above)
Continue with remaining wonton wrappers.
At this point you might be thinking "I cannot do this!" But have no fear, because they can be any shape you want as long as the edges are all properly sealed before you place them in the broth to cook. By the time you get to the fifth one, you will start feeling pretty good about your wonton making skills...just don't give up!
At this point, I like to put them in the fridge for 15-20 minutes to help solidify the bond around the edges and keep them from popping open in the broth.
Now, reheat the broth to a simmer and add about 10 wontons at a time.
Cook for 3-5 minutes until translucent and soft.
Have bowls ready (I like to add some chopped raw bok choy to the bottom of each bowl, it will be perfectly cooked)
Place 5-8 cooked wontons in each bowl.(I use a small sieve or slotted spoon)
Continue until all of the wontons have been cooked.
Ladle hot broth over wontons. I like to serve mine with a full bowl of broth.
Sprinkle with green onions and enjoy!