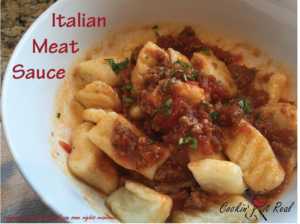 This all purpose meat sauce goes especially well with Easy Ricotta Gnocchi.  It is a super simple,  lighter sauce as Italian spaghetti sauces go (which is a good thing this time of year).  You can easily double it  if you want your pasta to be a little more substantial.  Enjoy!
Italian Meat Sauce
Prep time:
Cook time:
Total time:
Ingredients
½ pound ground beef
1-15 ounce can diced tomatoes
2 garlic cloves, coarsely chopped
½ teaspoon salt (or to taste)
½ teaspoon sugar
3 tablespoons olive oil
3 basil leaves, chopped
⅛ teaspoon crushed red pepper flakes (optional)
Instructions
Brown ground beef.
To a blender, add diced tomatoes and garlic cloves.
Blend until almost smooth.
Heat olive oil in a saucepan over medium to medium high heat.
Add tomato sauce to the hot pan and allow to boil 2-3 minutes. (do this carefully because it may splatter) Have a splatter guard or lid handy.
Season with salt and sugar. (add red pepper flakes now too if using)
Add ground beef and let simmer for 15-20 minutes.
Serve over ricotta gnocchi or your favorite pasta.
Sprinkle with chopped basil and grated parmesan if desired.