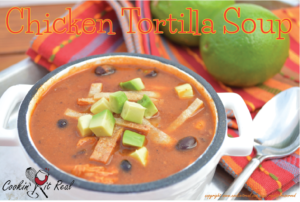 No Instant Pot? No worries!  This recipe is adapted for both an Instant Pot or a slow cooker. 🙂  Chicken tortilla soup is everything that is good in the world.  Cold weather comfort food that satisfies cravings for Mexican food at the same time.  People…this is heaven on earth!  Super easy, super tasty, and you can mix and match ingredients to create the perfect combination for your family. The addition of corn tortillas to the soup before blending is what gives it its great creamy texture. Enjoy!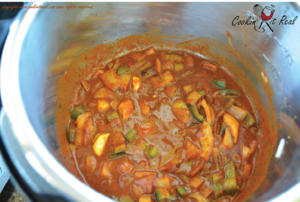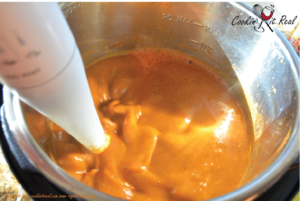 Using a stick or immersion blender, blend the liquid in the Instant Pot until creamy and mostly smooth.
Instant Pot Chicken Tortilla Soup
Prep time:
Cook time:
Total time:
Ingredients
2 tablespoons vegetable oil
1 onion, roughly chopped
1 jalapeno, roughly chopped
5 cloves garlic, roughly chopped
(everything roughly chopped will eventually be blended so no need to be precise)
1 10oz can red enchilada sauce
4 cups chicken stock
1 8oz can tomato sauce
2 chicken breasts
5 corn tortillas ripped into smaller pieces
1 tablespoon cumin
1 tablespoon chili powder
1 teaspoon Mexican oregano
2 teaspoons Kosher salt (or 1 tsp table salt)
1 can black beans, drained
1 can diced tomatoes with chilis
½ cup corn (I used frozen)
lime juice to taste
Instructions
Instant Pot instructions:
Set to saute 30 minutes. Add oil until hot.
Add onion and jalapeno. Cook for two minutes stirring occasionally then add garlic and spices. Cook until fragrant.
Add the enchilada sauce, chicken stock and tomato sauce to pot. Stir to combine. Place the raw chicken breasts into the liquid and allow to cook for the remaining 30 minutes on saute.
Once done, turn Instant Pot off and remove chicken. Shred once the chicken has cooled enough to handle.
Using a stick or immersion blender, blend the liquid in the Instant Pot until creamy and mostly smooth. (You can also add it to your blender, but need to be careful with the hot liquid.)
Turn Instant Pot to slow cook mode and add drained black beans, corn, diced tomatoes with chilis and shredded chicken. Soup is ready when you are, but I always let it spend a little quality time slow cooking to really bring the flavors together.
Slow Cooker Instructions:
In slow cooker place onion, jalapeno, garlic and spices. Mix to combine. Add the enchilada sauce, chicken stock and tomato sauce to the pot. Stir to combine. Place the raw chicken breasts into the liquid and allow to cook for at least an hour. (more if you need the time)
Remove chicken and set aside. Shred once the chicken has cooled enough to handle.
Using a stick or immersion blender, blend the liquid in the slow cooker until creamy and mostly smooth. (You can also add it to your blender, but need to be careful with the hot liquid.)
Add drained black beans, corn, diced tomatoes with chilis and shredded chicken. Soup is ready when you are, but I always let it spend a little quality time slow cooking to really bring the flavors together. (if you wish to add more liquid on the back end, you can add either water or chicken stock to your liking)
Topping options: avocado, cilantro, green onions, sour cream, cheese, pickled jalapenos, tortilla strips, tomatoes