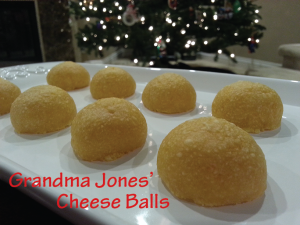 I absolutely LOVE finding recipes that have been passed on and enjoyed from generation to generation.  This great little holiday appetizer comes from my husband's grandmother, Grandma Jones. They bring back  some fond memories of the most amazing meals back when my husband and I were just dating.     We didn't realize how fortunate we were to have his grandparents just a short drive away during our college days.  It was always a special evening when we were invited for dinner.  Grandma Jones would pull out all the stops and we would eat like royals.  Good times, good memories!  Enjoy.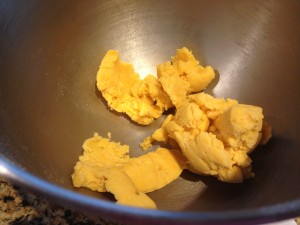 Stick with it!   It may take a few minutes to get the right consistency.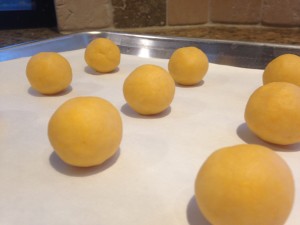 Roll tablespoon sized balls and space evenly on baking sheet.
Grandma Jones' Cheese Balls
Prep time:
Cook time:
Total time:
This recipe is a truly versatile one, that can be morphed into endless variations (some of which I will be sharing soon!) FEEL FREE TO EXPERIMENT...just remember that the fat content of the cheese you substitute will definitely affect the final shape of the cheese balls. If using a higher fat content cheese, I advise chilling the cheese balls prior to baking. Have some fun with these!
Ingredients
½ cup butter
1¼ cups flour
½ pound sharp cheddar cheese, grated
¼ teaspoon salt
½ teaspoon garlic powder
Instructions
Preheat oven to 350 degrees.
Place all ingredients in mixer bowl. (You definitely need an electric mixer...I use my Kitchenaid)
Beat until completely incorporated. It may feel like it will never come together, but you need to be patient! It will eventually morph from a powdery dry mixture to a bowl full of shreds then eventually you will achieve a smooth consistency. (see picture above)
Roll into balls. I usually make them about a tablespoon each.
Place on a lined baking sheet (it just makes life easier) about 2 inches apart.
Bake 10-11 minutes. As you can see from the above picture, they shouldn't be left long enough to "brown".
Serve immediately!
TIP: Depending on the saltiness of your cheddar cheese, you may want to omit the salt. In this recipe you definitely want to go with "less is more" because the cheese itself will bring a fair amount of "salty" to the final flavor.
TIP: These should be served immediately once baked. They are not as good once they have completely cooled. The great thing is, that you can make and roll them in advance, then just pop them into the oven when you are ready and you have instant appetizers that I must say are fantastic with a little bubbly!