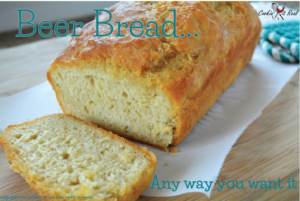 I love fresh baked goods…but don't necessarily love all of the time that goes into making them.  Well my friends, problem solved!  Beer bread to the rescue!!  This bread is good anytime, anywhere and no ID required. 🙂  Oh so good.  And so easy.  Throw flour, baking powder, salt and sugar into a bowl.  Pour a bottle of beer on top.  Ever so gently fold it all together until moist…which should take no more than 20 seconds tops.  Dump into a bread pan and stick it in the oven.  Your actively involved time:  roughly 3 to 5 minutes.  Baking does take a bit, there is no way around that.  But when it's done, your family will believe you slaved all day to make home made bread just for them.  Please, take a bow, because even though it only took 5 minutes of labor, it's the thought that counts, and it is a labor of love. (Nobody needs to know!)
This is SO a make it your own kind of recipe.  Keep reading for more options than you could ever imagine on how to change this recipe to satisfy your bread cravings and desires.  Enjoy!
Add ins:  Toss in as many or as few as you like. Mix and match.  Here we go…
Cheddar dill bread:  1 cup cheddar cheese, 2 teaspoons dried dill
Garlic bread:  1/2 cup Parmesan and 2 minced garlic cloves
Italian bread:  1 teaspoon each, dry basil and oregano 1/2 cup grated Parmesan or Romano
Rosemary/Feta:  2 tablespoons rosemary,  3/4 cup feta cheese
Garlic/Olive/Cheese:  1/2 cup sliced olives of choice (green or black or Kalamata) 1/2 cup cheese, 2 minced garlic cloves
Mexican:  4oz can green chilis, 1/2 cup cheese, 1/2 cup corn, Mexican beer
Pepperoni cheese bread:  2 minced garlic cloves, 1 cup mozzarella shredded, 1/2 cup sliced/diced pepperoni or cooked sausage(may need to bake a bit longer…test with a tooth pick)
or just throw in some chopped bacon, green onions, sautéed onions, cheese of your choice,  orange zest, dried fruit, 1/2 cup of oats instead of flour.
On the sweeter side…
Cranberry nut bread:  1 cup dried cranberries, 1/2 cup chopped walnuts
Chocolate coconut bread:  1/2 cup chocolate chips, 1/2 cup shredded coconut
Cinnamon Sugar:  Mix together 1/4 cup sugar and 1-2 teaspoons of cinnamon.  Pour half of dough into pan and drizzle with melted butter followed by half of the sugar mixture.  Add remaining dough and repeat.
And for just a moment I am going to blow your mind completely!  Instead of beer (which by the way will change the flavor of your bread depending on what kind and how strong it is)  you can use any carbonated beverage!  I have used hard cider also… talk about an awesome flavor combo when making the cinnamon sugar bread!  You can totally taste the apple.  You can even use soda…Mountain Dew, Sprite, Vanilla or Cherry Cola, Sparkling cider or even sparkling water.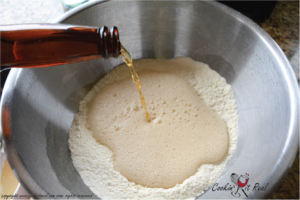 Pour in the beer…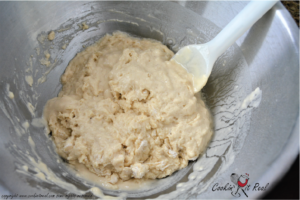 Ever so briefly stir to combine…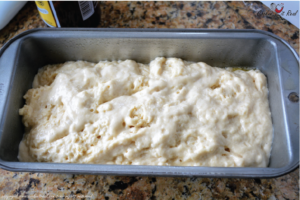 Drop it into your greased pan…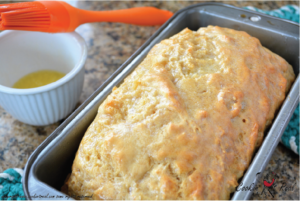 Bake and enjoy!
Beer Bread...Any way you want it!
Prep time:
Cook time:
Total time:
Ingredients
3 cups flour
1 tablespoon baking powder
1 teaspoon salt
⅓-1/2 cup white sugar (we like it with just shy of ½ cup)
1 beer at room temperature
3 tablespoons melted butter
Instructions
Preheat oven to 325degrees F. Grease a standard size bread pan with either butter or spray.
Sift the flour. Add baking powder, salt and sugar. Stir to combine.
Add the beer and gently fold the mixture until moist and just combined. (see pics) DO NOT STIR ANY MORE THAN NECESSARY. Chunky is OK. A few dry spots is also OK. Otherwise the bread will get very dense and hard. 🙁
Pour into the loaf pan and bake for a total of 1 hour 15 minutes. After the first 45 minutes, baste the bread with melted butter. Bake another 15 minutes and baste again. Finally, once the bread comes out of the oven, baste with remaining melted butter.
Let cool in the pan for 5 minutes then transfer to a rack and allow to cool completely. (if you can wait that long!) The only problem is, that If you don't, the bread will break apart as you cut it.