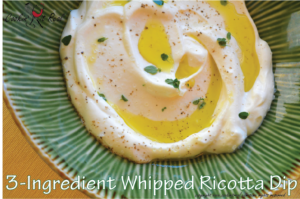 Talk about easy and delicious!  Simply throw it  into the food processor and let it go!!  These elegant pillows of creamy whipped goodness  create a spectacular appetizer for any season just like this.  Even better, it's so easy to be creative with this recipe and make it your own. You've got two ways to serve it…top crostini with the whipped ricotta and pile on the extras  or spread it into a shallow bowl or plate and  sprinkle on the extras.  Serve with crostini or crackers on the side. 
Not only can you change the presentation, but better yet, you can turn it into a completely different appetizer from season to season.  In the summer toss on some roasted grape tomatoes with  fresh from the garden herbs,  in the fall… roasted mushrooms, arugula and shaved Parmesan.  Winter lends itself to the perfect topping combination of roasted winter squash with  a drizzle of maple syrup and when spring  finally comes around, cut up some strawberries, toss them with a drizzle of balsamic and honey and top with a few slices of basil.   Truly an appetizer for all seasons and occasions…now that 's what I call Cookin'  it Real! 🙂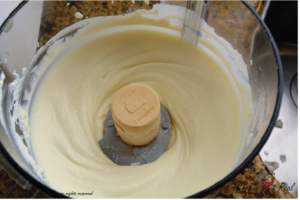 Whip until smooth and fluffy.
Elegant 3-Ingredient Whipped Ricotta Dip
Ingredients
2 cups ricotta (whole or part skim will work)
¼ cup (2 ounces) cream cheese
2 tablespoons milk
Extras:
olive oil
fresh herbs (I have added thyme)
sea salt
fresh cracked pepper
Instructions
In the bowl of a food processor, combine ricotta, cream cheese and milk.
Turn on and process until smooth and fluffy.
Spread onto a shallow bowl or plate and drizzle with olive oil.
Sprinkle with salt, pepper and your choice of herbs. Read above suggestions for other options to top the dip if you want to mix things up a little.
Alternately, spread onto crostini and top away!