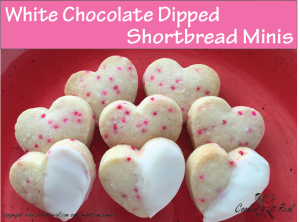 Looking for a special yet simple way to express your feelings this Valentine's Day or ANY day? What a great way to show that you are always thinking of them!  Good things do come in small packages, and that's exactly what you get with these super fun and festive little cookies. Isn't it the small gestures that often mean the most to us?  Having someone take the time to do something simple but unexpected can have the biggest impact on us.   Besides…You can almost taste the LOVE!  The girls will love them because they are so darn CUTE, and the guys will love them because they are so darn TASTY!  They are super easy to dip in chocolate…just use the chocolate specifically intended for melting.  You'll have to trust me on this one!
White Chocolate Short Bread Valentines' Minis
Prep time:
Cook time:
Total time:
Ingredients
1¼ cups flour
one third cup powdered sugar
½ cup salted butter, room temperature
½ teaspoon vanilla
1 tablespoon pink, red and white colored nonpareils
1 container white melting chocolate/wafers
Instructions
Preheat your oven to 325 degrees
Using your food processor with the metal blade, combine the flour and sugar, pulse to combine. Add softened butter and vanilla and pulse again until it begins to reach a heavy grainy consistency.
Transfer dough to a medium bowl, add nonpareils and gently knead dough with your hands forming a ball.
Place dough ball on lightly floured waxed paper or parchment paper and gently roll to approximately ¼ to ½ inch thickness.
Using a small heart shaped cookie cutter, cut out cookies.
Transfer hearts to a parchment lined baking sheet placing them half an inch apart.
Bake cookies 15-18 minutes until they are very lightly brown on the bottom. They shouldn't really brown much on the top.
Transfer cookies to a wire rack and cool before storing in an air tight container. (I simply lift up the entire piece of parchment paper and set it on the wire rack.)
Melt the white chocolate per the instructions on the container.
Dip hearts half way into the chocolate. I like a clean edge, so I use the side of a spoon to smooth any clumped chocolate along the outline of the heart.
Return cookies to parchment paper to set. You can speed up the process by placing them in the refrigerator for a few minutes to harden the chocolate.
You can even freeze them if they last that long!
Enjoy!