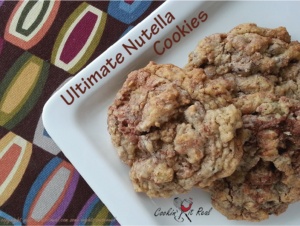 This recipe was definitely inspired by my boys and their love for Nutella.  Seeing my youngest devour Nutella on toast, I knew there was something amazing going on here.  Who knew you could create something so awesome with something so simple.  And, of course, how could we not start by adding it to our already favorite  family cookie recipe?  We had to make a few batches to make sure we got it just right.  After much taste testing I present to you The Ultimate Nutella Cookie.   Leave half out now to enjoy, and freeze the other half to surprise the kids later.  If you even think you might like Nutella, you will not be disappointed!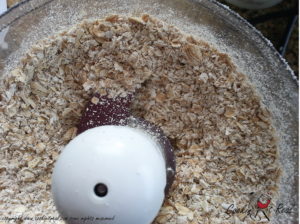 Blend oatmeal to a medium fine consistency.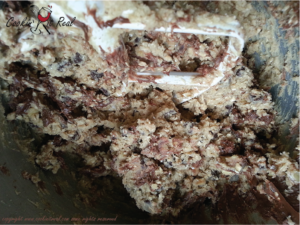 Combine just enough to incorporate the Nutella.
Ultimate Nutella Cookies
Ingredients
2 cups all purpose flour
2 cups oatmeal, ground in food processor to medium fine consistency
1 teaspoon baking soda
1 teaspoon baking powder
½ teaspoon salt
1 cup white sugar
1 cup brown sugar
2 sticks butter
2 eggs
1½ teaspoons vanilla extract
1½ cups semisweet chocolate chips
1½ cups walnuts, chopped
¼ to ½ cup Nutella (sometimes more is better!)
Instructions
Preheat oven to 375F.
In a food processor or blender, blend oatmeal to a medium fine powder. (Blend a little less to give the cookies some extra texture)
Add flour, baking powder, soda and salt to oatmeal and stir to combine, set aside.
Cream butter with white and brown sugars in mixer.
Add eggs and vanilla and mix to combine. (I like a somewhat fluffy consistency at this point)
Add flour/oatmeal mixture, chocolate chips and chopped walnuts into mixer bowl and mix just enough to combine. (This may require some hand mixing from the bottom to get everything combined. I prefer to do this rather than overmixing)
Add spoonfuls of Nutella to dough and mix one last time to allow Nutella to mix in.
Use a spoon or cookie dough scoop to form cookies. Make sure you pick up some Nutella in every scoop.
Place them two inches apart on a cookie sheet covered with parchment paper (for easy clean up!)
Bake for 8-10 minutes at 375F
Cookies should just begin to brown on the sides and the center should be firm and no longer look wet. Remember the cookies will continue to cook after removed from the oven.
Place cookies on racks to cool.
Enjoy!