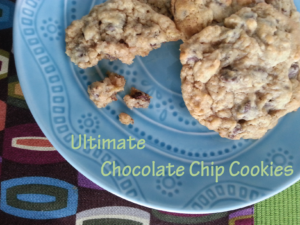 I can think of no better way to celebrate National Chocolate Chip Cookie Day (May 15) than to whip up a big batch of my favorite chocolate chip cookies EVER!  They  have great texture from the ground oatmeal, a fantastic toasty nut crunch from the walnuts, gooey chocolate chips and chock full of oatmeal, flaxseed meal and walnuts they are actually good for you!  The question should really be what don't I love about these cookies!  This has been my families favorite cookie for as long as I can remember, hope it will be your family favorite, too.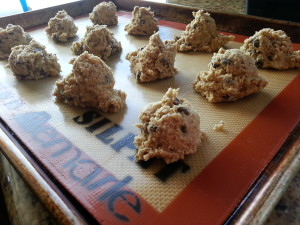 Ultimate Chocolate Chip Cookies
Prep time:
Cook time:
Total time:
Ingredients
2 cups all purpose flour
2 cups oatmeal, ground in food processor to medium fine consistency
2 tablespoons flaxseed meal (optional)
1 teaspoon baking soda
1 teaspoon baking powder
½ teaspoon salt
1 cup white sugar
1 cup brown sugar
2 sticks butter
2 eggs
1½ teaspoons vanilla extract
1½ cups semisweet chocolate chips
1½ cups walnuts, chopped
Instructions
Preheat oven to 375F.
In a food processor or blender, blend oatmeal to a medium fine powder. (Blend a little less to give the cookies some extra texture)
Add flour, flaxseed meal if using, baking powder, soda and salt to oatmeal and stir to combine. Set aside.
Cream butter with white and brown sugars in mixer.
Add eggs and vanilla and mix to combine. (I like a somewhat fluffy consistency at this point)
Add flour/oatmeal mixture, chocolate chips and chopped walnuts into mixer bowl and mix just enough to combine. (At the end, this may require some hand mixing from the bottom to get everything combined. I prefer to do this rather than overmixing)
Use a spoon or cookie dough scoop to form cookies.
Place them two inches apart on a cookie sheet covered with parchment paper (for easy clean up!) Use a spoon or your finger to flatten a little if you like a flatter cookie.
Bake for 8-10 minutes at 375F
Cookies should just begin to brown on the sides and the center should be firm and no longer look wet. Remember the cookies will continue to cook after removed from the oven.
Place cookies on racks to cool.
Enjoy!