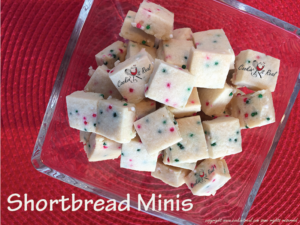 Ahh…the holidays!  It's not until this time of year that my instinct to bake really kicks in!  There is just something about homemade  cookies that fires up the old holiday spirit.  One cookie in particular that I have never been able to resist is a good shortbread cookie.  The only problem… I enjoy them too much!   Maybe that's why I only really bake around the holidays. 🙁  My solution…go mini!  These little shortbread cookies are perfect because you get that amazing first bite every time without having to eat a whole big cookie!  They are also the perfect size to serve on a holiday buffet table or to take to a cookie exchange.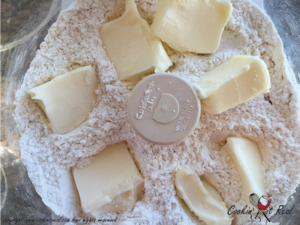 Add butter to flour and sugar mixture and pulse.
Pulse until it forms a grainy paste.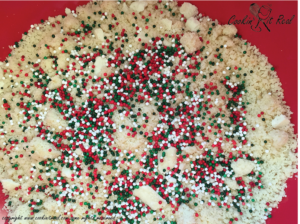 Place in a bowl and add nonpareils.  Hand mix.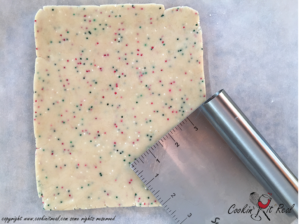 Roll to a half inch thickness and form into a rectangle.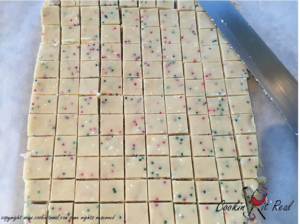 Cut into half inch squares using a long knife or pizza cutter.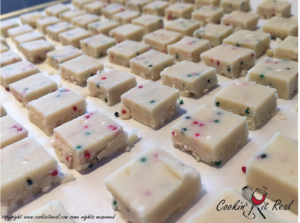 Space half an inch apart on a parchment lined baking sheet.
Shortbread Minis
Prep time:
Cook time:
Total time:
Ingredients
1¼ cups flour
one third cup powdered sugar
½ cup salted butter, room temperature
½ teaspoon vanilla
1 tablespoon holiday colored nonpareils
Instructions
Preheat your oven to 325 degrees
Using your food processor with the metal blade, combine the flour and sugar, pulse to combine. Add softened butter and vanilla and pulse again until it begins to reach a heavy grainy consistency.
Transfer dough to a medium bowl, add nonpareils and gently knead dough with your hands forming a ball.
Place dough ball on lightly floured waxed paper or parchment paper and gently roll to approximately ½ inch thickness. Using your hands or a dough cutter (see above picture) form the dough into a rectangle. Freeze 10 minutes.
Cut dough into ½ inch squares using a large knife.
Place squares on a parchment lined baking sheet ½ inch apart. (I transfer the whole parchment paper that I originally cut them on over to the baking sheet and then space them ½ inch apart.)
Bake cookies 15-18 minutes until they are very lightly brown on the bottom. They shouldn't really brown much on the top.
Transfer cookies to a wire rack and cool before storing in an air tight container. You can even freeze them if they last that long!
Enjoy!