Ahh…Fall is in the air, and the kids are eagerly anticipating Halloween.  Nothing brings back my own childhood memories of Halloween festivities and trick or treating like the tasty homemade treats that moms used to actually have time to make this time of year.   Number one on my list was always Popcorn Balls…caramel apples were a close second!  Most everyone anywhere close to my generation will have memories of these awesomely tasty treats!!! Enjoy…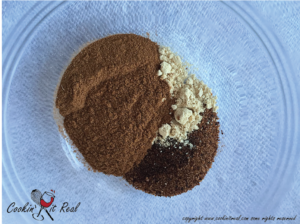 Blend the spices first.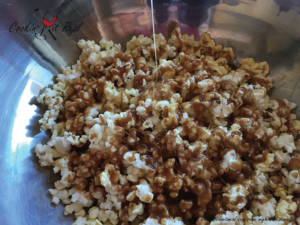 Pour syrup over the popcorn and work quickly to coat it evenly.
Pumpkin Spice Popcorn Balls
Prep time:
Cook time:
Total time:
Ingredients
For this recipe you will need a candy thermometer which you can buy at your local grocery store if you don't have one.
8 cups any brand Microwave Popcorn (butter flavored if you like), popped
1 cup sugar
⅓ cup light corn syrup
⅓ cup water
¼ cup butter plus 1 teaspoon for your hands!
½ teaspoon salt
1 tablespoon vanilla extract
2 teaspoons pumpkin pie spice
OR
1½ teaspoons cinnamon
¼ teaspoon ginger
⅛ teaspoon ground cloves
A pinch to ⅛ teaspoon nutmeg
Instructions
Pop popcorn
Place popcorn in a large bowl and remove any unpopped kernels. (don't want to break a tooth!)
Set popcorn in a preheated 200 degree F oven to keep warm. Turn oven off.
Cover a baking pan with aluminum foil and set aside.
Combine dry spices and vanilla extract in a small bowl.
Make sure that you have everything prepped in advance. You must work quickly once the syrup reaches temperature.
Combine the corn syrup, sugar, salt, water and butter in a large saucepan over medium high heat.
Stir until the syrup boils. Then let syrup boil undisturbed until the candy thermometer reaches 270 degrees F.
Remove pan from heat and add spice/vanilla mixture. Stir with a wooden spoon just enough to mix.
Have a spatula handy at this point to get all of the syrup from the pan.
Pour the syrup over the popcorn and stir with the wooden spoon to coat.
Let cool just long enough to handle.
Coat your hands with the butter. Quickly shape popcorn into balls and place on the foil lined baking sheet to cool.
Wrap individual popcorn balls tightly in plastic wrap. Decorate with a ribbon if desired.
Will stay fresh for up to a week.