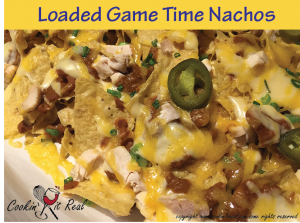 It's game time!   With the final weeks of NFL play upon us,  it's time for some serious  game food.  Sunday Night Football  has become "Nacho Night" at our house.  It's a little different every Sunday depending on what is left over in the fridge…pulled pork, short ribs, rotisserie chicken.  Truly a beautiful thing.  These are so versatile…you can make the exact recipe, or use it as a guideline to create your own master piece.  They are even more awesome when you serve them on a full size baking sheet!
Loaded Game Time Nachos
Prep time:
Cook time:
Total time:
Ingredients
1 large bag of your favorite tortilla chips
Chili:
1 can of your favorite chili with beans, spicy or regular (I use Dennison's)
dash of cumin
2-3 tablespoons of your favorite red salsa (I use Herdez medium hot)
Nacho Cheese Sauce:
2 tablespoons butter
2 tablespoons flour
1 cup milk, warmed in the microwave for 20-30 seconds
¼ teaspoon mustard powder
¼ teaspoon salt (or to taste, I often add another ¼ teaspoon)
1 cup plus an additional 1 cup good quality sharp cheddar cheese, grated (grate it yourself to avoid all of the anti-clumping agents they add to pre-shredded cheese.)
All the Rest:
1 cup of diced/shredded meat (this time I used rotisserie chicken, but you could use leftover steak, pulled pork, short ribs, or go vegetarian)
2 green onions, chopped
sliced, pickled jalapenos (optional)
1 avocado, diced (optional)
1 tomato, chopped (optional)
Instructions
Preheat oven to 350 degrees F
For the Chili:
Add the can of chili along with the salsa and dash of cumin to the blender and blend to desired consistency. (I prefer a little chunky, but without any whole beans visible) It should easily drizzle onto the chips.
Set chili aside.
For the Nacho Cheese Sauce:
Melt the butter in a medium skillet over medium heat. Once melted, add the flour, whisking to combine it into a smooth paste.
Let the roux cook, stirring until it becomes a light golden color. (about 2 minutes)
Slowly add the pre-warmed milk to the skillet, whisking until the milk is incorporated and you get a smooth and creamy consistency.
Allow sauce to thicken slightly while adding the mustard powder and salt.
Reduce heat to low and begin adding the 1 cup of grated cheese approximately a tablespoon at a time, whisking to incorporate before adding more.
Once all of the cheese has been added and melted into the pot, it's ready!
Keep it on low until you are ready to use it. Once you remove it from the heat, it will begin to thicken.
Putting it all together:
Place parchment paper over a large sheet pan so that it extends slightly beyond the edges.
Add a layer of tortilla chips.
Drizzle chili back and forth over the chips to cover evenly.
Stir nacho cheese sauce then drizzle evenly over the chili.
Cover with a layer of meat across the chips.
Follow this with a thin layer of shredded cheddar cheese and green onions.
Continue to layer in the same order until you have a heaping pile of nachos! (I usually do three layers of chips)
Add jalapenos on top of final layer and bake for 5-7 minutes. (I usually know it's done when the top layer of grated cheese begins to bubble.)
Remove from oven, add any extras like tomatoes or avocado and DIG IN!
Enjoy!