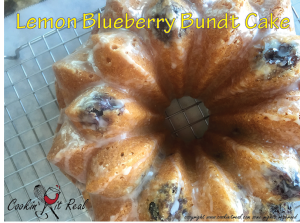 Kids are back in school…what are we going to do with ourselves???  🙂  I'm happy and sad all at the same time.  The one thing I know for sure is that a little slice of Lemon Blueberry Bundt cake makes me feel better every time!   I absolutely love this combination, and if you are a lemon fan, you will be in heaven!  Moist and lemony, topped off with a little pop of blueberry sweetness.  Just like my Pineapple Coconut version, you can add or delete flavors without sacrificing the great moist texture of this cake.  Infact, for this one, I only put blueberries in half, keeping one side lemon only.   Besides putting a smile on your face, I promise you, that when the kids are greeted by a slice of this tasty after school treat they will be smiling, too .  It's a win-win!  Enjoy!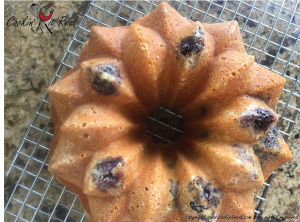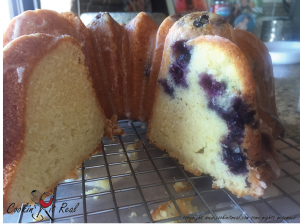 This time I did half  blueberries and half without to accommodate different tastes!
Lemon Blueberry Bundt Cake
Prep time:
Cook time:
Total time:
Ingredients
Cake
1 cup butter, softened
2 cups sugar
3 eggs
2 tablespoons lemon juice
1 lemon, zested
2¼ cups all-purpose flour
½ teaspoon baking soda
½ teaspoon salt
8 ounces lemon flavored Greek yogurt (I used Trader Joe's brand and it was awesomely lemony)
½ cup blueberries, fresh or frozen
¼ cup flour for blueberries
Glaze
1 cup powdered sugar
2 tablespoons lemon juice
Instructions
Preheat oven to 325 degrees.
Grease and flour a Bundt pan, making sure to grease all of the nooks and crannies to ensure easy release of the cake.
Sift together the flour, baking soda and salt.
Mix in the lemon zest.
Cream butter and sugar in an electric mixer until fluffy.
Beat eggs in one at a time.
Add 2 tablespoons lemon juice and slowly mix to combine.
Alternate adding in the flour mixture and the yogurt. Mix until just incorporated.
Toss blueberries in ¼ cup flour to coat before adding to batter mixture. Gently fold in blueberries.
Pour the batter into the Bundt pan.
Bake in the preheated oven 40-50 minutes or until toothpick inserted into center comes out clean.
Allow the cake to cool for 10 minutes before turning it onto a wire rack that has been covered with parchment paper. Cool completely.
Once cake is cool, make the glaze by whisking the powdered sugar and lemon juice until smooth.
Drizzle over the top of the cake and enjoy!