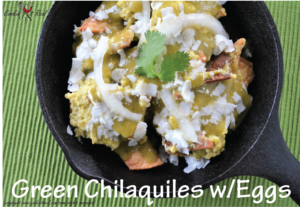 About now  you're asking yourself "what is this crazy sounding concoction you call chilaquiles?"  Aside from completely awesome, it's a traditional Mexican dish most often eaten at breakfast or brunch.  Some even say it works wonders on a  hangover!  Corn tortillas are cut into quarters or squares and lightly fried creating the base for the dish.  Green or red salsa  is poured over the crisp tortillas and they are simmered until the tortillas begin to soften.  Pulled chicken is sometimes added but in this recipe I am going full on breakfast, incorporating scrambled eggs into the dish by slowly cooking them into the green salsa. To top it off, you garnish with crema (like thin sour cream, only better),  shredded Mexican cheese, raw onion  and avocado slices.  You are going to LOVE this!  It's like nachos for breakfast…only better!  The best part is, you can make it all from scratch or use store bought tortilla chips and salsa.  There is no shame ! Just remember, the thicker the tortilla chips, the better!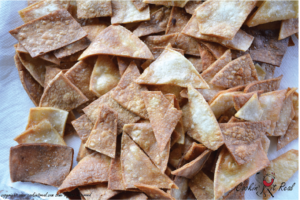 Add the tortillas in batches in a single layer.   Fry until golden light brown.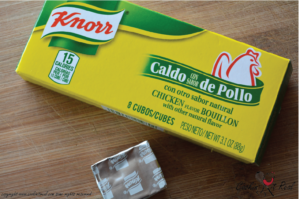 Use half of a cube Knorr Chicken Bouillon.  You're gonna love this stuff! ( I find it in the Mexican section at my grocery store)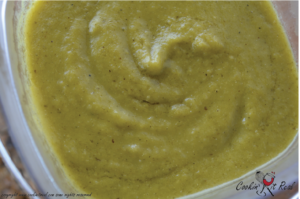 If you are making the salsa….this is what the good stuff looks like!
Green Chilaquiles with Eggs
Prep time:
Cook time:
Total time:
Ingredients
12-15 corn tortillas OR 1 large bag of extra thick tortilla chips
½ -3/4 cup corn oil (if frying own tortillas)
15-20 small tomatillos (the smaller the better the flavor)
¼ medium onion, quartered
1 serrano pepper
1 teaspoon salt
½ cube Knorr Chicken Bouillon (see picture above)
10-15 sprigs cilantro
**OR 1½ cups green salsa of your choosing
6 eggs
salt and pepper to taste
½ cup queso fresco or other Mexican cheese
crema
onion slices (throw them into a bag with a little lemon juice, a dash of salt and some oregano for milder pickled onions if you want)
avocado slices
Instructions
If making your own tortilla chips, cut the tortillas into triangles or squares. Heat a frying pan and add the corn oil. Once the oil has started to ripple, add the tortillas in batches in a single layer. Fry until golden light brown. Carefully remove them from the pan and drain them on a baking sheet lined with paper towels. Save two tablespoons of the oil for the salsa.
If making the salsa verde, remove the husks and wash the tomatillos. Place them along with the quartered onion and serrano pepper onto a baking sheet lined with foil. Broil in the oven until nicely charred in spots. Depending on your oven this could take anywhere from 5 to 10 minutes.
Remove from the oven. Remove the stem from the serrano pepper, and depending on how much heat you like, you may want to remove half of the seeds. Now transfer everything to a blender. Add the teaspoon of salt, ½ cube of Knorr Chicken Bouillon (you're gonna love this stuff!) and cilantro. Heat the pan that you fried the tortillas in with the two tablespoons of oil and add the salsa, allowing it to bubble and boil while stirring for about two minutes. This should nicely thicken the salsa.
Beat the eggs in a bowl and season with a little salt. Remove the salsa from the pan and turn the heat to low. Cook the scrambled eggs half way before adding in one cup of the salsa. Stir until eggs are set. Mixture should be creamy.
Stir the tortilla chips into the egg/salsa mixture until coated. Plate them immediately. Drizzle with remaining salsa and garnish with crumbled queso fresco or other Mexican cheese, crema, onions, avocado slices and serve with refried beans if you like. Serve at once. Enjoy!