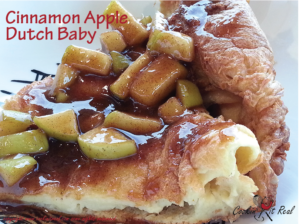 They say that the way to a man's heart is through his stomach, and if your man loves pancakes, this will be the dish that tips the scale!   So easy to make…just throw the ingredients into the blender, pour into a hot pan, pop into the oven and watch the magic happen. Your kids will get a huge kick out of watching it puff and morph into it's bubbly goodness.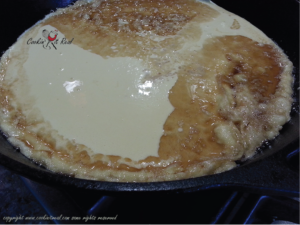 Pour the batter into the hot buttered pan directly from the blender.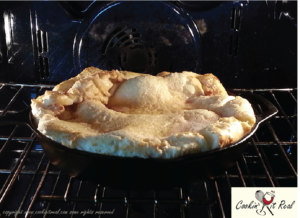 Watch the magic as the Dutch Baby begins to expand.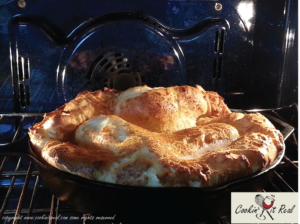 Bake until  golden brown.
Cinnamon Sugar Apple Dutch Baby
Prep time:
Cook time:
Total time:
Ingredients
For the Dutch Baby:
1 cup milk at room temperature (you can microwave briefly to warm it up a little)
¾ cup flour
4 eggs at room temperature (put in a glass of warm water if needed)
1 teaspoon vanilla extract
½ teaspoon salt
2 tablespoons butter, melted
3 tablespoons clarified butter
confectioners sugar to sprinkle on top (optional)
For the Cinnamon Sugar Apple topping:
3 tablespoons butter
⅓ cup brown sugar
2 teaspoons cinnamon
pinch of salt
1 apple, diced (I used Granny Smith...just use an apple that holds up to cooking)
Instructions
Preheat the oven to 425F
For Dutch Baby:
Place all ingredients except clarified butter into the blender. Blend until well combined.
On stove top at high temperature, heat clarified butter until bubbling. I prefer to use a cast iron pan but you may use any oven proof skillet (at least 10 inches)
Pour batter into skillet. It will sizzle briefly, leave on stovetop one minute.
Transfer skillet to the preheated oven and cook until puffed and golden. Approximately 20 minutes.
Be careful not too over cook! You want a nice golden color to the Dutch baby, this allows the center to stay somewhat creamy as well. It won't taste bad if you cook it longer, you just won't achieve the same internal consistency.