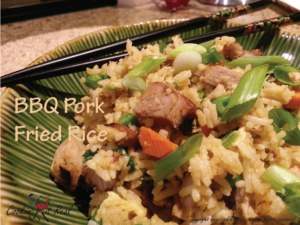 I absolutely love Asian flavors, especially sesame oil.  It transports your taste buds to a whole new world.   And what's not to love about fried rice?  You get everything you need… veggies, carbs and protein in one tasty perfect bowlful.  Once you have the basics, it is so easy to swap ingredients to make it even more versatile.  Instead of pork you can cook up chicken, beef, shrimp or tofu.  Same with your veggies.  You can add things that your kids will never ever guess they just ate. (unless they dissect it!)  Greens that stand up to heat are fantastic chopped in.  I added bok choy to add that extra Asian flavor, but you could easily replace it with kale or collard greens.
The funny thing is it was my 11 year old son who inspired me to make this recipe when he came home from a birthday party at a teppanyaki restaurant raving about  the fried rice and asking if I could make some at home.  How could I resist!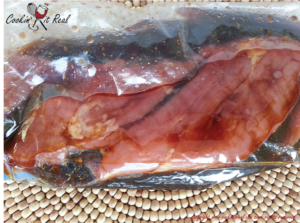 Coat the pork and return it to the refrigerator for a minimum of two hours, preferably closer to six hours.
Prep all of the veggies in advance.
Mix rapidly to combine all ingredients thoroughly.
BBQ Pork Fried Rice
Prep time:
Cook time:
Total time:
Ingredients
For Pork:
4 tablespoons rice wine
3 tablespoons oyster sauce
3 tablespoons soy sauce
2 tablespoons honey
3 garlic cloves, minced (use your grater to make it easier)
1 tablespoon fresh ginger, minced (grater works great here, too)
1 tablespoon sesame oil
1 pound pork tenderloin
1 tablespoon Char Siu Chinese BBQ sauce (if you can't find this, use any sweet BBQ sauce)
For Rice:
3 tablespoons canola oil
1 tablespoon fresh ginger, minced (or grated)
1 cup carrot, peeled and chopped
1 cup baby bok choy, stems and leaves chopped
1 cup frozen peas
4 cups cooked Jasmine rice, made the day before
3 eggs, beaten
3 tablespoons oyster sauce
3 tablespoons soy sauce
2 garlic cloves, minced (or grated)
1 tablespoon sesame oil
Instructions
Don't be afraid of the prep time, it is mostly for marinating!
Cook the rice the day before and refrigerate overnight so that it dries out a bit. You definitely do not want to use rice that you just cooked. Cook rice according to directions on package.
For the pork, make the marinade by combining the rice wine, oyster sauce, soy sauce, honey, minced garlic, ginger and sesame oil. Place in a large resealable bag and add the pork tenderloin whole. Swish it around to coat the pork and return to refrigerator for a minimum of two hours, preferably more like six hours. The ideal scenario would be whipping up the marinade the night before and then just adding the pork in the morning to marinate all day until you come home.
Since you don't need the pork to be hot for the dish, I would recommend getting it barbequed and letting it sit while you make the rest of the fried rice.
BBQ at medium heat until an instant read thermometer reads 145 degrees. Turning as necessary to keep from burning.
During the last 10 minutes (when it reaches about 130 degrees) is a great time to glaze the pork with the additional bbq sauce so that it has time to caramelize onto the pork.
Remove pork from the bbq when cooked to 145 degrees, tent and let rest 10 minutes before cutting into bite size pieces.
To prep for the rice, have your beaten eggs ready and waiting along with the sauce for the finished product. (oyster sauce, soy sauce and garlic cloves, minced)
Next, heat oil in a wok or large skillet over high heat until shimmering.
Add the ginger and all of the vegetables.
Cook vegetables, stirring frequently about 4 minutes.
Add the rice to the wok.
Mix rapidly to combine all ingredients thoroughly. (be careful here, if you don't move quickly when stirring, the rice will very easily stick to the sides of the wok...so keep it moving!)
Once you have it well incorporated, add your beaten eggs and continue to toss rapidly to blend them in and make sure that they are thoroughly cooked.
Add the sauce that you combined before starting the rice along with the sesame oil and stir until the sauce is completely mixed in. Finish by adding the pork, stirring it in and topping with the green onions.
Serve immediately.