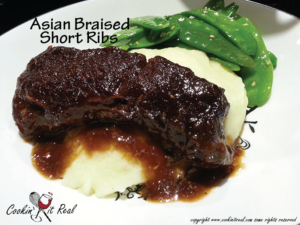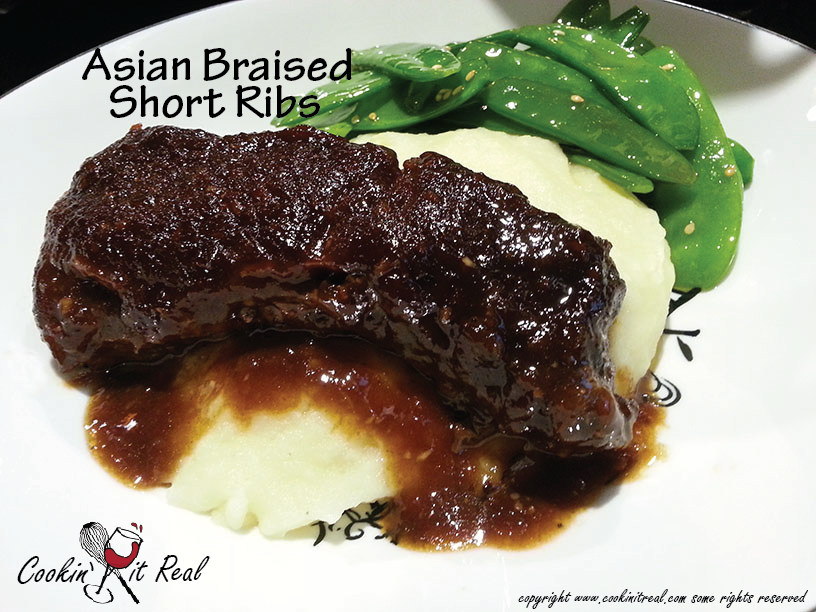 The family was craving Asian Braised Short Ribs  and I decided to put a little different spin on them.  This recipe really lends itself well to variations.  For this version, I replaced the creamy mashed potatoes with Basmati rice.  I really wanted to add bok choy and struggled to come up with a flavor that wouldn't fight with the  ribs.  The answer was right in front of me…I absolutely love the flavors of the short rib sauce, so why not just increase the original recipe and incorporate it into the bok choy.  DONE!  I made this meal even easier by not having to dirty another pan.  Check out the recipe.   I made just a few tweaks that stepped up the sauce making enough to cover the short ribs and season up the bok choy.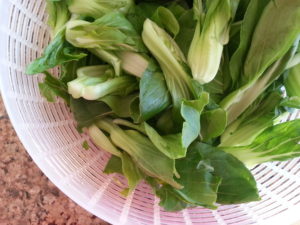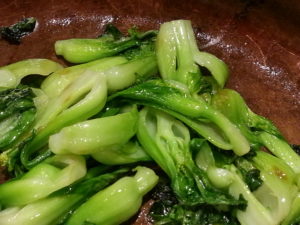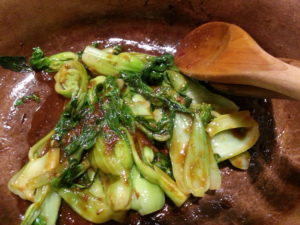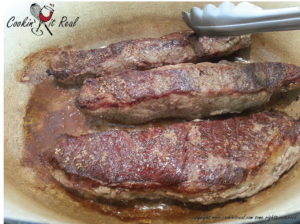 Asian Braised Short Ribs with Bok Choy
Ingredients
3 pounds short ribs (I prefer boneless)
salt and freshly ground black pepper
3 tablespoons vegetable oil
1 piece fresh ginger, approximately 1 inch peeled and cut into thick slices
5 garlic cloves, smashed
12 ounce can beer (your choice...)
¼ cup rice wine vinegar
For the Sauce
2 tablespoons vegetable oil
½ cup leeks (white end) thinly sliced and well rinsed. No leeks? You can use red or white onions instead!
4 garlic cloves, smashed
1 piece fresh ginger, approximately 1 inch peeled and cut into thick slices
1 cup Hoisin sauce
3 tablespoons rice wine vinegar
2 tablespoons soy sauce
1-15 ounce can diced tomatoes
For the Bok Choy:
10-12 heads baby bok choy, cleaned, trimmed and cut into halves lengthwise
2 tablespoons vegetable oil
½ teaspoon salt
Instructions
Begin by seasoning the ribs well with salt and pepper.
Heat oil in heavy skillet over high heat. (Make sure to have a splatter screen handy)
Brown the ribs on both sides, don't overcrowd the pan to allow for proper browning.
Transfer browned ribs to slow cooker set on high.
Add ginger slices, smashed garlic cloves, beer and rice wine vinegar to slow cooker.
Cook on high 4 hours or low up to 7 hours, turning ribs once.
Sauce
In pan used to brown ribs, add 2 tablespoons oil, leek slices, smashed garlic and sliced ginger. Cook until soft.
Add Hoisin sauce, rice wine vinegar, soy sauce and tomatoes.
Season with salt.
Simmer for about 25 minutes.
At this point, pull the pan from the heat and either use an immersion blender to puree the mixture or let it cool down a bit and transfer to a blender to blend until smooth.
Set aside.
Putting it all together:
About an hour before the ribs are finished cooking, add finishing sauce to crockpot working around the ribs to combine with the sauce already in the slow cooker.
Add an additional ¼ cup to ½ cup of water to thin sauce to desired consistency.
Allow to cook until ribs are tender and sauce is heated through.
Once the sauce is heated through, add cleaned and cut bok choy to a wok or large pan with 2 tablespoons of oil, heated over moderately high heat.
Stir fry bok choy with ½ teaspoon salt for two minutes.
Reduce heat to medium-low and cover pan to steam the bok choy until crisp-tender approximately 2-3 minutes.
When ready to serve, remove the ribs and add the bok choy to the slow cooker, stirring to coat with the sauce.
Plate ribs and bok choy over rice and spoon the remaining sauce over the ribs.
Enjoy!