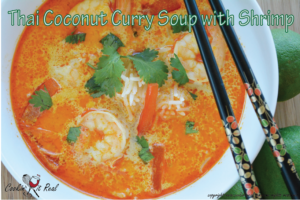 Silky smooth and slightly spicy…this stuff is GOOD!  Another super versatile recipe, too!  Add chicken instead of shrimp…simply add with liquids.  Change up the veggies…add bok choy, spinach or kale.  Or pour the soup over Asian noodles instead of rice.  Or don't change a thing…you won't be disappointed either way!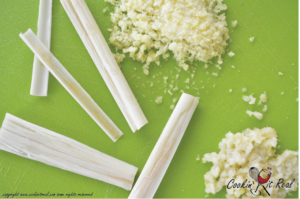 With the flat side of a wide bladed knife, smash the lemon grass until slightly flattened.  Grate the garlic and ginger.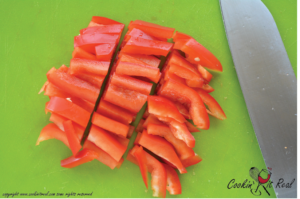 Cut the red bell pepper into strips, then cut each strip into three pieces.
Thai Coconut Curry Soup with Shrimp
Prep time:
Cook time:
Total time:
Ingredients
2 tablespoons vegetable oil
2 cans (13.5 ounce) coconut milk (can be low fat...I buy it at Trader Joe's)
3 cups chicken broth
2 tablespoons fish sauce (sounds weird, but adds a great flavor without being overpowering)
1 stalk lemon grass cut into thirds and smashed with a knife
3 garlic cloves, grated
2 tablespoons grated ginger
1 red bell pepper cut into small slivers
5 shitake mushrooms, sliced (optional)
2 tablespoons red curry paste
1 teaspoon curry powder
1 tablespoon brown sugar
2 tablespoons fresh squeezed lime juice
zest of half a lime
3 tablespoons cilantro, rough chopped
1 tablespoon chopped green onion
16-20 uncooked shrimp
2 cups cooked rice (cook according to package instructions)
Instructions
Cook rice according to package instructions and set aside.
Heat 2 tablespoons of oil over low heat in a large pot. Throw in lemon grass, garlic, ginger, curry powder and red curry paste stirring until fragrant.
Increase heat to Medium and add bell peppers and mushrooms, cooking long enough to just soften them.
Add chicken broth, fish sauce, brown sugar, lime zest and coconut milk (shake well!). Reduce heat to low.
Just before serving, add lime juice and shrimp. Cook 3-4 minutes until shrimp are pink.
Add half a cup of rice to the center of each bowl. Pour soup around the rice making sure to get 4-5 shrimp in each bowl. Top with green onions and cilantro.
Serve immediately and Enjoy!