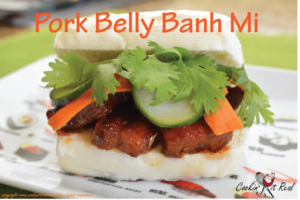 Not familiar with Banh mi?  Well, let me introduce you to one of my favorite sandwiches ever!
Bánh mì's origins are actually in France. The French arrived in Vietnam as missionaries establishing colonial control of Vietnam in 1887. They brought their language and their food, including the baguette.  By the 1950s the Vietnamese were calling the baguette  bánh mì, meaning wheat bread. Bánh mì has long been a food staple of the working poor in Vietnam. Bánh mì stalls and carts are everywhere in the streets of Vietnam, providing a simple and tasty midday meal to the masses.
It was street food long before street food became a thing with foodies. Ingredients like the sweet, crunchy fresh vegetables and pungent herbs and spices are what make the bánh mì Vietnamese.   Banh mi is generally made using some type of pork, often grilled, and can also be made with chicken or grilled beef.  Today though, I present to you the creme de la creme of Banh mi meats…PORK BELLY.  The pork belly does require a little effort to make, but don't let that scare you!  It makes a FANTASTIC  Sunday night meal.  I guarantee that your family will yearn for more!  Enjoy.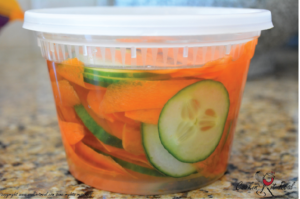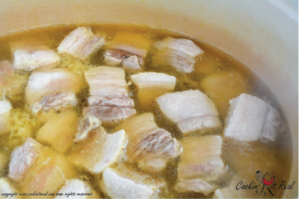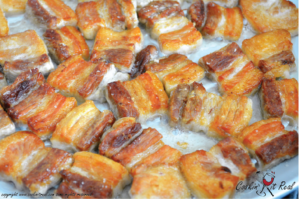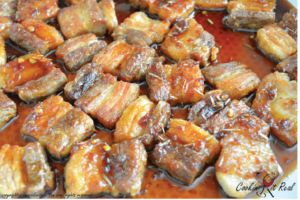 Pork Belly Banh Mi
Prep time:
Cook time:
Total time:
Ingredients
Pickled Asian Vegetables:
½ cup warm water
5 tablespoons rice wine vinegar
2 tablespoons sugar
½ teasponn Kosher salt
English cucumber, thinly sliced
Carrots, either sliced into thin matchsticks or sliced with a vegetable peeler into ribbons
For the pork belly:
1-2 pounds pork belly cut into thick slices and then into 2 inches portions
Chicken stock-enough to cover the pork belly in your pot (should be about 4-5 cups)
5 smashed garlic cloves
1 tablespoon grated fresh ginger
2 tablespoons rice wine vinegar
1 tablespoon white sugar
Pork belly glaze:
1 teaspoon ginger, grated
1 tablespoon chili garlic sauce (available on the Asian aisle at your local grocery store)
2 tablespoons honey
2 tabelspoons brown sugar
¼ cup soy sauce
1 tablespoon rice wine vinegar
1 stock lemon grass (using only the lower four inches of the stalk, peel and remove any dry or tough outer layers, finely mince) or 1 teaspoon dried if you can find it
Cilantro
Soft French baguette or I love to use STEAM BUNS that I find in the frozen section of my local Asian market
Sriracha mixed with some mayo if you like a spicy sandwich
Instructions
For the pickled veggies:
Mix together brine ingredients until dissolved.
Add veggies to your container and fill with the liquid to completely cover them.
Let sit for at least 30 minutes before serving.
For the Pork belly:
Into a large pot combine the chicken stock, ginger, garlic, rice wine vinegar and sugar. Add in the pork belly pieces and bring to a boil. Cover with a lid and turn down the heat to a simmer. Cook for two hours.
Prepare the glaze by combining all glaze ingredients in a small bowl.
Remove the pork from the liquid. (The leftover liquid is great for making an Asian soup)
Heat one tablespoon of oil in a nonstick frying pan over medium high. Carefully add the pork belly, season with salt and pepper, and cook until the pork is golden on both sides. Turn down the heat to low and add in the glaze, making sure to coat each piece evenly until pork darkens and is sticky. (this shouldn't take more than 4-5 minutes)
Remove from heat and fill sliced buns with meat followed by pickled vegetables, fresh cilantro and sriracha mayo if desired.