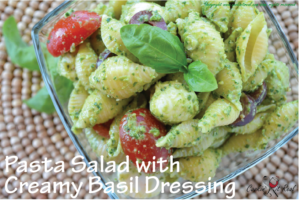 I've always been a distant fan of pasta salads.  In theory they've sounded good, yet without fail, have fallen short for me in the flavor department.  And so my quest began!  Fresh basil, being  one of my favorite herbs to cook with, seemed like a great place to start my search for a better pasta salad.  It's flavor is subtle yet distinct,  offering a perfect base for mixing and matching a variety of tasty mix ins.   In this recipe I added grape tomatoes, Kalamata olives and small fresh mozzarella balls.  You could easily include your favorite salami for even more pizzazz or some grilled chicken to make it a meal.  From my own experience, more is not always necessarily better.   If you have three or four really nice flavors that complement each other there is no reason to mess with it.  And NEVER be afraid of salt!  It will enhance the flavors in your salad.  
Just incase you are feeling adventurous and want to kick your salad up to the next level and make it your own, here are some suggestions:
Proteins you might add in one cup increments:
Chicken

Steak

Ham or salami

Canned tuna

Lump crabmeat

Shrimp

Hard Boiled Eggs
Veggies in one cup increments:
Broccoli, blanched

Carrots, shredded

Red onion, diced

Bell pepper, diced (fresh)

Asparagus, blanched and chopped

Canned chickpeas or white beans, drained and rinsed
A little something special to really add a pop of flavor, start  with  1/3 cup increments:
Sun-dried tomatoes, chopped

Roasted red peppers, chopped

Olives, pitted and chopped

Feta, mozzarella or similar cheese, shredded or crumbled

Walnuts (chopped), pine nuts, sunflower seeds, toasted

Bacon, cooked and crumbled

Capers, throw in a couple of tablespoons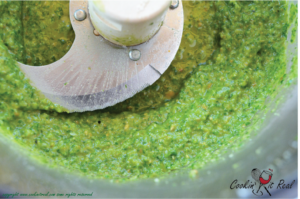 In a food processor fitted with a steel blade, puree all of the ingredients for the Creamy Basil Dressing but the mayo.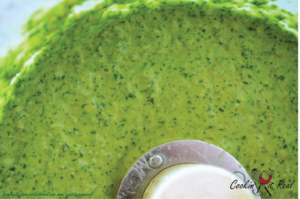 Add the mayonnaise and pulse to incorporate.
Pasta Salad with Creamy Basil Dressing
Prep time:
Cook time:
Total time:
Ingredients
1 pound pasta (fusilli, rotini, shells, penne, farfalle all work great)
1 cup grape tomatoes, halved lengthwise
⅓ cup Kalamata olives, sliced into rounds
¾ cup small fresh mozzarella balls (otherwise known as Bocconcini)
Creamy Basil Dressing
2 cups packed basil leaves
1 cup packed spinach leaves
2 tablespoons roasted sunflower seeds (can be salted)
3 garlic cloves, minced or grated
⅓ cup good olive oil plus 2 tablespoons for the pasta
⅓ cup grated Parmesan or Romano cheese (I use a combo)
½ teaspoon salt or to taste
2 tablespoon lemon juice
2 tablespoons mayonnaise
Instructions
If you can, make a batch of the Creamy basil dressing in advance to make it even better.
Cook pasta al dente in boiling salted water, drain and put in a large bowl. Toss with 2 tablespoons of olive oil. Let sit at room temperature.
In the bowl of a food processor fitted with a steel blade, puree all of the ingredients for the Creamy Basil Dressing but the mayo. Add the mayonnaise and pulse to incorporate.
Add the pesto mixture along with the tomatoes, olives and mozzarella to the pasta and toss well. Season to taste and serve at room temperature.
Enjoy!