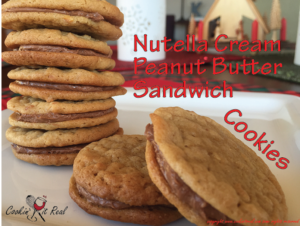 These cookies are simply a little slice of heaven!  I've made two batches in the last week…I can't bake them as quickly as they are being eaten!  The combination of hazelnut spread and peanut butter is unbeatable!  Keeping them small is the key when making these cookies.  They look small when you spoon the dough onto the pan, but once they hit the oven they spread to almost three times their size!  The cookies themselves are super soft and chewy (thank you Mrs Field's!) and the cream is to die for.  The mixture of salted butter, sweet Nutella and powdered sugar makes a pretty spectacular filling…good enough to eat straight from the bowl! 😉  Enjoy!
Keep the dough to a teaspoon full if making sandwich cookies…they spread!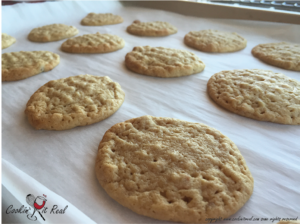 Bake until just turning golden around the edges.  They will keep cooking.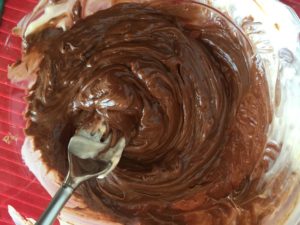 Soften the butter and hand mix the ingredients with a fork…adding powdered sugar to get the right consistency.
Nutella Cream Peanut Butter Sandwich Cookies
Prep time:
Cook time:
Total time:
Ingredients
For the Cookies:
2 cups all-purpose flour
½ teaspoon baking soda
¼ teaspoon salt
1¼ cups dark brown sugar, firmly packed
1¼ cups white sugar
1 cup salted butter, softened
3 large eggs
1 cup peanut butter (I use chunky because it's what I have on hand, but you can use smooth too)
2 teaspoons vanilla extract
For the Nutella Cream:
½ cup Nutella or other hazelnut spread
½ cup salted butter, softened
½ cup powdered sugar, sifted
Instructions
Preheat oven to 375 degrees F.
Combine flour, soda and salt in a medium bowl. Mix well.
In a large blender bowl, blend sugars at medium speed.
Add butter and mix to form a grainy paste. Scrape sides down.
Add eggs, peanut butter and vanilla and mix until fluffy.
Slowly add flour mixture at low speed until combined. Do not over blend.
I like to cover my cookie sheet with parchment paper for super easy cleanup.
Drop teaspoon sized dough onto a cookie sheet two inches apart.
With a wet fork (just have a small bowl of water on the side) press a crisscross pattern into each cookie.
It's important to wet the fork to keep the dough from sticking to it. I wet the fork every other time.
If using teaspoon size portions, bake for 6-8 minutes until cookies become slightly brown on the edges. For larger cookies, 8-10 minutes. (It's worth watching the first batch close to the end to establish the best timing in your oven)
Let cookies cool on cookie sheet for a minute before removing them to a wire rack or other cool surface.
Mix the Nutella and softened salted butter with a fork until well blended. Sift powdered sugar into same bowl and stir until smooth. If you want a thicker consistency, you can add more powdered sugar in small increments.
Once the cookies have cooled, match pairs for the best "sandwich" fit and smear Nutella cream on one cookie, finishing by topping with the second cookie.
Enjoy!