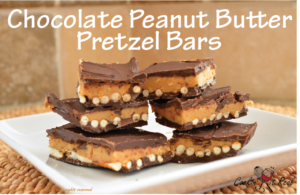 These divine bites are truly a little slice of Heaven.  In some circles they are called Chubby Hubby Bars, and once you have one, you will totally understand why.    From my own personal experience,  a more accurate description would be  Chubby Everybody Bars.  I thought it best to  avoid the word "chubby" and focus more on the  positives  like "no-bake"  and "sweet and salty and oh so crunchy little bites of peanut butter pretzel filled  chocolatey goodness". 🙂  That was just too darn long, so compared to that,  No Bake Chocolate Peanut Butter Pretzel Bars seems pretty reasonable!  I can tell you now, that if you make them…they will come.  Who are they you ask?  Everyone!  Enjoy.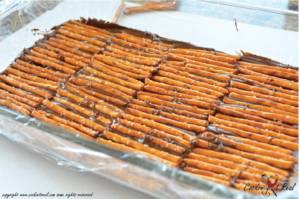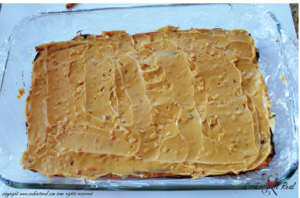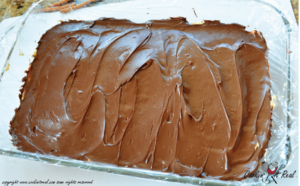 Chubby Hubby Bars
Prep time:
Cook time:
Total time:
Ingredients
3 cups semisweet chocolate chips
Pretzel sticks-enough to cover a 9x13 inch pan, lets say 2 cups
half a stick of butter, melted
1 cup chunky peanut butter (you can use smooth if you prefer)
1 cup powdered sugar
Instructions
Line a 9x13 inch pan with aluminum foil hanging excess over the edges. Coat with nonstick cooking spray.
Take 1-1/2 cups of chocolate chips in a medium bowl and microwave on ¾ power in 30 second increments, stirring after each, until the chocolate is completely melted and creamy smooth. Pour it into the bottom of the lined pan in an even layer.
Line up the pretzel sticks in neat rows so that you can cut your bars between the rows of pretzels. OR take a short cut and break the pretzels into pieces and scatter them in an even layer. Give them a gentle nudge, pushing them into the chocolate to set them. (making sure that the pretzels are pushed into the chocolate is key to being able to smoothly spread the next layer over them.) Place in the refrigerator while you work on the next layer.
In another bowl, whisk the peanut butter and melted butter together. Add the powdered sugar and continue to whisk until it is smooth. Carefully spread an even layer over the pretzels.
Now melt the rest of the chocolate (1-1/2 cups) in the same way that you melted the first batch. Pour it over the peanut butter layer and spread evenly. (This works best using an offset spatula)
Refrigerate the pan again until the bars are set. I have had the best results when waiting at least one hour before cutting it into bars.
Serve and enjoy this heavenly treat. Store any leftovers in an airtight container in the refrigerator.