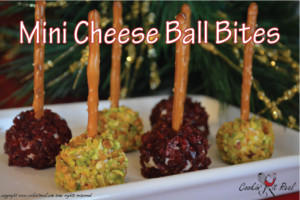 These little cheese balls aren't just easy to make, they're fun to eat!  What's better than an appetizer with a built in edible toothpick?   They are such a perfect bite size treat, I had to stop myself from eating them all!   🙂  Because they are two totally different taste experiences, your guests will want to try them both…so make twice as many as you think you will need.  Happy partying…

Mini Cheese Ball Bites
Ingredients
3 oz goat cheese
8 oz cream cheese (I use reduced fat Neufchatel), softened
2 green onions finely chopped
1 teaspoon lemon juice
1 teaspoon lemon zest
¼ cup pistachios, finely chopped
½ cup dried cranberries, finely chopped
pretzel sticks
Instructions
Combine the goat cheese, cream cheese, green onions, lemon juice and lemon zest in a medium bowl until well incorporated.
Using a spoon, or preferably a small cookie scoop (mine is 2 teaspoons) scoop cheese onto a piece of parchment paper. Once cheese has been portioned, wet your hands lightly and roll each into a ball. Refrigerate balls for at least 30 minutes.
Chop nuts and cranberries. This is easiest in a food processor. Put each into a bowl.(I prefer a deep bowl so I can swirl them around to coat) The cranberries can be a little sticky, so I always put them into the freezer before using.
The cheese balls can be made a day ahead. They can be rolled in the cranberries a day ahead as well. Do not roll in the pistachios or add the pretzel sticks until shortly before serving to keep them from getting soggy.
Enjoy!