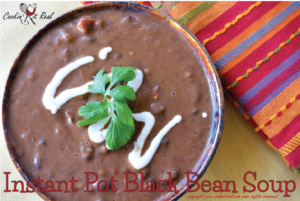 IF YOU DON'T HAVE AN INSTANT POT YET, DON'T WORRY…I GIVE STANDARD COOKING INSTRUCTIONS AS WELL! 🙂
It's cold outside…I know for many of you that's been a fact of life for months now.  But here in California, with the constant overcast skies and moist air, it has finally gotten cold! (yes, I know, it's not cold compared to most everywhere else in the US, but by California standards, it's cold!)  So what better way to embrace the chill in the air, than by cooking up a nice hearty pot of black bean soup.  Black bean soup holds some great memories for me.  Back in the day, before children, my husband and I would meet for a special lunch at a little restaurant off of Hwy 17 near Santa Cruz.  They made the BEST black bean soup served in sourdough bread bowls.  That, accompanied by their magical peach iced tea and getting to sit outside on those rare fog free afternoons was absolute heaven!  Good times…:)
MAKE IT YOUR OWN:
So let's make some black bean soup!  Here are some great ways to dress it up or make it your own…instead of bacon, add some ham or a ham hock to flavor the soup.  If you are vegetarian, omit the bacon…I'm sorry.  The soup has a great trio of veggies in it's base…onions, carrots and celery.  Change it up a little by subbing in green or red peppers or make it chunky by adding corn and diced mild peppers (green or red) or spicy peppers (jalapenos or serranos with our without seeds depending on how spicy you like it) after blending.
Additional fixin's would include sour cream (which you can thin with a little milk, pour into a squeeze bottle and drizzle on top), chopped peppers, pickled jalapenos, pepperoncini, cilantro, cheese, diced tomatoes, green onions, a lime wedge, avocado, hot sauce, salsa or corn chips (mmm!).  SO MANY POSSIBILITIES!  Plus, serve it in a traditional bowl, or how about a bread bowl, over rice or with a hearty and quick beer bread to serve along side!  Any way you serve it…Enjoy!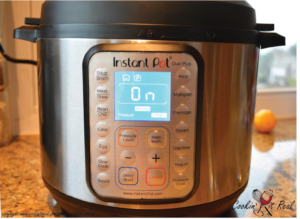 My new best friend… the Instant Pot!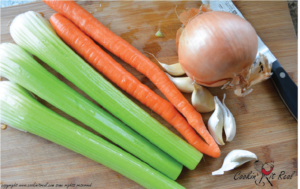 Lots of good stuff in here.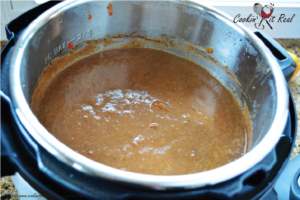 Not pretty, but here it is minus the beans.
Instant Pot Black Bean Soup
Prep time:
Cook time:
Total time:
Ingredients
5 slices of bacon, chopped
1 onion, diced
6 garlic cloves, minced or grated
2 carrots, finely chopped
3 celery ribs, finely chopped
1 jalapeno, diced OR
1 small can diced green chiles
2 cups chicken broth
1 can (15 oz) diced tomatoes with liquid
2 teaspoons cumin
1 teaspoon coriander
1 tablespoon chili powder
1 bay leaf
4 cans (15.5ounce) black beans with liquid
salt to taste
1-2 teaspoons red wine vinegar or apple cider vinegar to taste (optional)
Instructions
I like to start by rough cutting the veggies and tossing them into my food processor on pulse until they reach a very small shred. In a Dutch oven or Instant Pot, saute chopped bacon until it renders some of its fat. Then add the celery, carrots, onion, garlic and jalapeno along with your first seasoning of salt and cook until tender.
Add tomatoes, chicken broth, cumin, coriander, chili powder, bay leaf and beans.
Instant Pot...Close lid and set to manual high pressure for 5 minutes. This will take a bit longer than 5 minutes, because it will reach temperature in roughly 6 minutes, then the 5 minute pressure cook. When complete, let sit for a couple of minutes before manually releasing steam.
Dutch oven...Bring to a boil. Reduce heat to medium, cover, let cook for about 20-30 minutes.
For both methods: Transfer 3-6 cups of soup to a blender. Make sure that you remove the bay leaf. Add at least a teaspoon of salt and puree until smooth. Return to the pot, stir to combine and taste for seasoning. Now is the time to add more salt, pepper and vinegar if you choose to. DO NOT BE AFRAID TO ADD MORE SALT.
If adding additional veggies, now would be the time, and allow to simmer for another 15 minutes to heat everything through.
Garnish with all the fixin's and ENJOY! However, if you can be patient and want an even more amazing flavor experience, make the soup a day or two before you will be serving it. Refrigerate and reheat just before serving. The flavors will meld and you will not be disappointed!