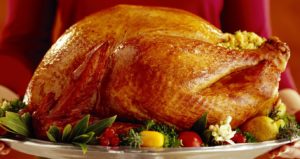 Regardless of how much help you do or don't have this Thanksgiving, a few simple tips can make for smooth sailing come crunch time.
Here we go:
PRINT OUT  YOUR RECIPES AND TAPE THEM TO A CABINET DOOR FOR EASY VIEWING:
With so many dishes being prepared, knowing exactly where to find each recipe at any point amidst the chaos is a good thing. 
SCRUBBING POTATOES TO FEED A BIG CROWD?  DON'T!
Simply throw them all into the dishwasher and crank on the rinse cycle.  Presto! Clean potatoes.
NO NEED TO GET OUT THE POTATO PEELER:
Cut a slit all they way around the center of  each raw potato. Boil them skin on.  Dump into a quick ice bath to cool and the skins will rub right off.
COOK THE STUFFING ON THE SIDE:
It will save you about half an hour of cooking time, keep the turkey breast from potentially drying out and no running the risk of  creating a petri dish inside of your turkey.  Opt for throwing  in any combination of halved onions, halved lemons, garlic, celery, carrots or fresh herbs instead.  If brining, DON'T salt the inside of the cavity.
PUT TOGETHER YOUR STUFFING THE NIGHT BEFORE.
Chill it in the refrigerator overnight and throw it in the oven when you are ready.
DO ALL OF YOUR CHOPPING THE DAY BEFORE.
Store all those veggies in plastic baggies so they don't take up much fridge space.
ICE THE TURKEY BREAST BEFORE PUTTING IT IN THE OVEN.
OK, I haven't done this yet myself, but I am this year.  The theory is that if the breast meat starts at a lower temperature, the white meat won't overcook and dry out before the dark meat is done.  One more way to ensure a perfectly moist turkey. It 's as easy as slapping a gallon sized plastic bag filled with ice on top of the turkey breast for 30 minutes just before roasting.
DRY IT, BUTTER IT, RUB IT ALL OVER:
It is after all the star of the show!  I always rinse the bird whether I am brining or not, then make sure you pat it dry.  You can even let it sit open in the fridge overnight to dry out the skin.  This adds a nice crispiness to the skin of the finished bird.   Next, push a little butter under the skin of the breast.  Think moist and flavorful.  Lastly, rub the bird all over with a nice coating of oil to help the turkey brown evenly.
ALL SAFE AT 165 DEGREES FARENHEIT:
Do NOT rely on the little red pop up thermometer that comes with some birds.  One of my favorite chefs, Alton Brown, says cook until the thickest part of the breast reaches 161 degrees F . Finish by tenting it loosely with foil for 20 minutes to redistribute the juices before carving.
HOW MUCH AND FOR HOW LONG?
Here is a quick reference guide to help you sort it all out! (Times are for an unstuffed bird)
| | |
| --- | --- |
|  Pounds |  Hours |
|  8 to 12 |  2-1/2 to 3-1/2 |
|  12 to 16 |  3-1/2 to 4 |
|  16 to 20 |  4 to 4-1/2 |
|  20 to 26 |  4-1/2 to 5-1/2 |
| | | |
| --- | --- | --- |
|  Turkey Weight (in pounds) |  Average Servings |  Ample Servings with Leftovers |
|  12 |  12 |  8 |
|  14 |  14 |  9 |
|  16 |  16 |  10 |
|  18 |  20 |  12 |
|  20 |  22 |  14 |