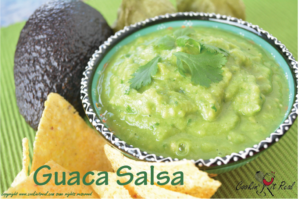 Sounds strange, but it's oh so good!  It's like making your favorite salsa even better by adding the creamy goodness of avocado to it.  You'll just have to trust me on this one.  We devour this stuff.  The added bonus, it's amazingly good for you!  Tomatillos contain 20 percent of your daily recommended value in vitamin C, loads of vitamin K, and a healthy amount of iron, magnesium, phosphorus, and copper.  Throw the avocado into the mix and you are mind blowingly healthy without even trying!  Bottom line…no feeling guilty about over indulging on this game day snack.  Enjoy!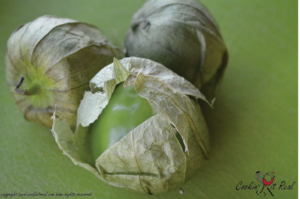 Remove paper skin, wash and roughly chop the tomatillos.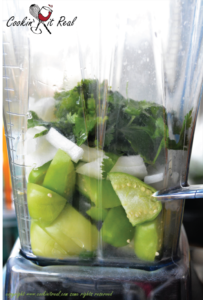 Place tomatillos, jalapeno, onion, lemon juice, garlic powder, half of the chopped cilantro and salt into the blender.
Blend until smooth and taste for seasoning.
Guaca Salsa
Ingredients
3-4 tomatillos, roughly chopped
¼ heaping cup roughly chopped onions
½ to 1 jalapeno, seeds removed
2 tablespoons lemon juice
⅓ cup cilantro chopped,loosely packed
2 tablespoons olive oil
¼ teaspoon garlic powder
salt to taste
Instructions
Place tomatillos, jalapeno, onion, lemon juice, garlic powder, half of the chopped cilantro and salt into the blender. Blend until smooth and taste for seasoning. Add more salt if necessary.
Add avocado, olive oil, and remaining cilantro and blend to desired consistency.
Enjoy now, or store refrigerated for up to two weeks. (The acidity from the tomatillos and lemon juice will keep it from turning brown.)