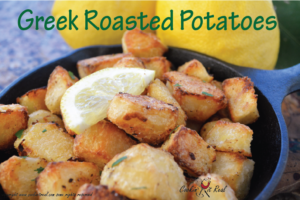 I love exposing my kids to the different flavors of the world.  The great thing is it doesn't have to be complicated.  These potatoes are a classic Greek dish.  Simple to make with mouthwatering results.  Crispy on the outside with a tangy, creamy interior. Yum!  They are lemony and garlicky and oh so good.  
The perfect accompaniment to any roasted meats (especially lamb) with the added bonus of making the best hash browns ever the next day!  It's time to get out there and have some fun discovering different cooking methods and combinations of ingredients that you wouldn't normally put together.  Enjoy!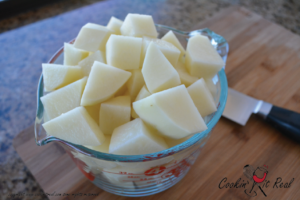 Cut potatoes into large sized cubes.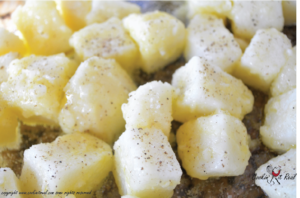 Place marinated potatoes evenly in a 9×13 dish or large cast iron pan. Sprinkle generously with salt and pepper.
Greek Roasted Potatoes
Prep time:
Cook time:
Total time:
Ingredients
4-5 cups of large cubed, peeled potatoes (preferably yellow potatoes, but baking potatoes will do)
¼ cup fresh lemon juice
¼ cup good olive oil
2 cloves garlic, minced or grated (throw in more if you like!)
salt and pepper to taste (Don't skimp!!)
optional drizzle:
2 tablespoons butter
1 tablespoon olive oil
1 garlic clove, grated
chopped parsley
Instructions
Begin by filling a large pot with water and salting it well.
Add potatoes to the cold water and bring to a boil. Parboil the potatoes for 5 minutes. Drain and let sit for 5 minutes.
In the mean time, whisk the lemon juice, olive oil and garlic until emulsified.
Toss potatoes and marinade into a large resealable bag. Shake it to evenly coat the potatoes and let marinate for an hour or up to a day.
When ready, preheat oven to 400 degrees F. Place potatoes evenly in a 9x13 dish or large cast iron pan. Sprinkle generously with salt and pepper. Roast for 60 minutes or until golden brown, turning every 20 minutes or so.
Make the drizzle ahead by warming the butter with the garlic, parsley and olive oil in a microwave until the butter is melted. Making it early allows the butter/oil mixture to infuse with the garlic. Mmm! Stir to combine.
Remove from oven and toss with the optional drizzle if desired.