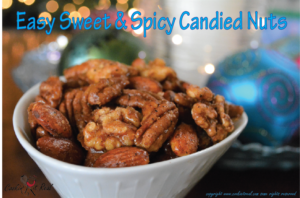 I hate these darn nuts…absolutely hate them!  They are SO addictive.  I had to make two batches, the first batch was gone before I could even get my camera out!  You will LOVE them!  They are not too sweet, not too spicy…but if you want more of either it's as easy as adding a little more sugar or spice.   I highly recommend making a double batch.  If they make it past the first day, they will keep in an airtight container for 2 weeks.   Use any nuts you like.  I've found that pecans are the absolute favorite, hands down.  If you are going mixed… walnuts, cashews and almonds are all great choices.  Raw almonds just require a 5-7 minute pre-roasting before you add them to the rest of the recipe to keep them from being chewy.  Enjoy!

Easy Sweet and Spicy Candied Nuts
Ingredients
1 tablespoon butter, melted
1½ tablespoons water
½ cup confectioners sugar
1¼ teaspoon Kosher salt (Diamond Crystal)
⅛ to ¼ teaspoon cayenne pepper (depends on how much spice you like!)
½ teaspoon chile powder
a heaping ¼ teaspoon cinnamon
2 cups nuts (pecan, walnuts, almonds, cashews)
Instructions
Preheat oven to 350 degree F.
If using raw almonds pre-roast them on a sheet pan at 350 for 5 to 7 minutes or they will still be a little chewy at the end.
Cover a sheet pan with parchment paper. (If you don't have parchment paper you can use foil...but parchment is better)
Combine confectioners sugar, salt, cayenne pepper, chile pepper and cinnamon in a small bowl.
Add water and stir until blended then add the melted butter. Stir until combined.
Place nuts in a medium bowl and pour all of the spice mixture over them. Using a spoon toss the nuts in the mixture until well coated.
Pour the nuts onto the parchment paper, spreading them evenly into a single layer across the pan.
Place in preheated oven for 10-12 minutes until browned and bubbly.
Slide the parchment from the pan and let nuts cool completely.
Break apart any nuts that are stuck together and serve. They keep in an airtight container for up to two weeks.