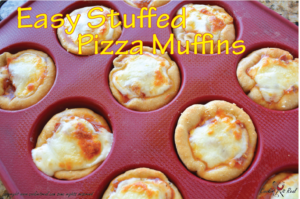 Yes, these are the PERFECT afterschool snack for all you moms fired up to feed your hungry bunch the perfect power snack when they get home from school today,  BUT they are also the PERFECT tasty little  treats for anyone with that mid afternoon "hangry" feeling   looking for an easy and satisfying bite to eat. 
First though, let me say, OMG, where did the summer go?  I should still be planning our next family beach day, not what to feed them when they get home from school.  My kids are pretty much feeling the same way…so the least I can do is welcome them home with an awesome snack. 🙂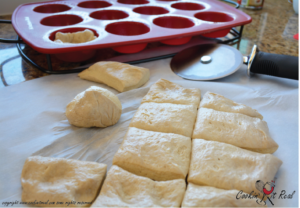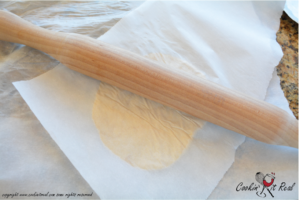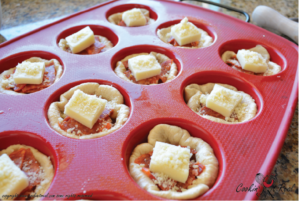 Easy Stuffed Pizza Muffins
Prep time:
Cook time:
Total time:
Ingredients
No exact measurements required here. Just use what you have and add amounts that feel right.
non-stick spray
parchment paper
pizza dough...homemade, from a tube, or a ball of dough from the store
pizza sauce or your favorite spaghetti sauce
mozzarella cheese, cut into 24 small squares to fit in the center of your muffins
parmesan cheese, grated
pepperoni (I use two slices per muffin), cut into quarters so you don't get all of the pepperoni in one bite!
Optional ingredients: cooked sausage, olives, mushrooms, onions, bell peppers or any topping you would normally eat on your pizza
Instructions
Remove the pizza dough from the refrigerator bringing it closer to room temperature before using.
Preheat oven to 400 degrees F. Spray muffin tin with non-stick spray to coat.
Divide your dough into 10-12 pieces, rolling each into a ball. Cut two small pieces of parchment paper to use when rolling out the dough. Place one dough ball in between the two sheets of parchment and using a roller, roll the dough into a small circle roughly 1-1/2 times the size of your muffin tin opening. Press into muffin tin making sure to cover the sides of the tin. Continue with each dough ball.
Place a square of mozzarella in the bottom of each muffin, add a teaspoon of pizza sauce on top, then pepperoni pieces followed by another square of mozzarella and a sprinkling of grated Parmesan cheese.
Place them in the preheated oven for 12-15 minutes, until the cheese is bubbling and the crust is golden. Remove from the oven and allow them to cool for a couple of minutes before removing and serving.
TIP: You can make them in advance and store in the refrigerator or freezer.