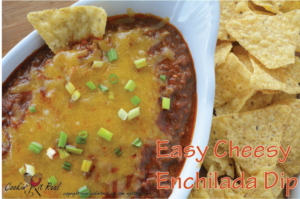 Getting ready for the Super Bowl?  You don't want to pass up on this warm and cheesy bowl of goodness.  The best part is, when the bowl is empty you've got another one waiting warm and ready in the wings. This dip is the perfect warm appetizer because you can prepare it ahead.  The day of simply  heat, serve and enjoy!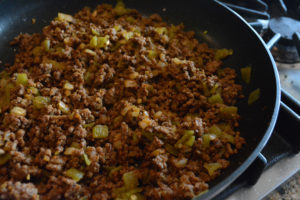 Add onions and saute until softened then add taco seasoning mix, cumin, garlic powder and green chilis .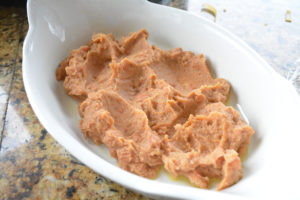 Divide and spread the refried beans on the bottom of each of the serving dishes.
Easy Cheesy Enchilada Dip
Prep time:
Cook time:
Total time:
Ingredients
1 pound ground beef
½ cup diced onion
3 tablespoons taco seasoning mix
1 teaspoon cumin
½ teaspoon garlic powder
1-4 ounce can diced green chilis, drained, mild or hot
2-10 ounce cans of your favorite red enchilada sauce
optional: ¼ cup hot water mixed with 1 teaspoon beef bouillon and 1 teaspoon cornstarch
1 can refried beans
1 tablespoon taco seasoning mix
2½ cups cheddar cheese
chopped green onions to garnish
Instructions
Preheat oven to 400 degrees F.
Cook ground beef breaking it into small pieces. Drain fat (as much as you possibly can because you don't want a greasy end product)
Add onions and saute until softened. Add taco seasoning mix, cumin, garlic powder, green chilis and enchilada sauce. Stir to combine over low heat. If adding optional beef bouillon mix, add now.
Add 2 cups of cheese to the enchilada sauce and stir to combine.
Prepare two oven safe serving dishes by greasing the bottom with either oil or cooking spray.
In a microwave safe bowl, combine refried beans and taco seasoning mix. Warm for 30 seconds to 1 minute until softened. Divide and spread on the bottom of each of the serving dishes.
Ladle the enchilada meat sauce over the refried beans in each dish. Sprinkle with remaining cheese. Bake for 10-15 minutes or until bubbly and cheese is melted. Sprinkle with green onions.
I will bake one at a time to always have one warm, unless I need both of them at once.
Enjoy!