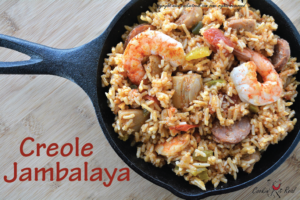 Mardi Gras is a great time to eat jambalaya (and ya, I know it's already over.  I've got kids, remember, so sometimes I'm a little behind)  But that was no excuse not to share this amazing recipe with you, because I could seriously eat jambalaya every single day.  It is the most awesome combination of ingredients, that when all put together create this amazing  revolving door of flavors.  You might be thinking  "What??".  Try it and you will understand.  This recipe  has a kick of spice and a fantastic overall flavor that I guarantee will keep you coming back for more.  Even more awesome, you can create a whole batch all in one pan, and have enough food to feed an army.  The first time I made this, we ended up with multiple nights worth of dinners. (and it was just as good if not better as leftovers!)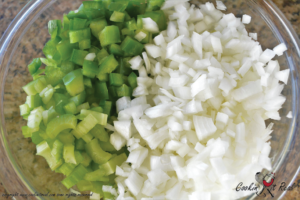 Onions, celery and green bell peppers…the holy trinity of Creole cooking!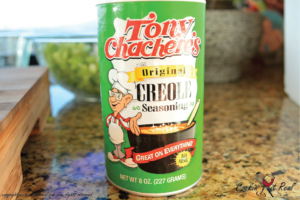 Tony Chachere's Creole Seasoning…my favorite and what really makes the flavor of this jambalaya.
Getting a nice crust on the sausage and chicken really adds to the overall flavor.
Creole Jambalaya
Prep time:
Cook time:
Total time:
Ingredients
3 tablespoons olive oil
4-5 boneless skinless chicken thighs cut into bite size chunks
½-1 pound sausage (either andouille or kielbasa depending on what you can find) cut into rounds
½ pound raw shrimp, tails removed
1 yellow onion chopped
1 green bell pepper, finely chopped
1 cup chopped celery
4 garlic cloves, minced or grated
1-14 ounce can diced tomatoes with liquid
2 cups rice, uncooked
4 cups chicken stock
2 teaspoons Worcestershire sauce
3 bay leaves
2 tablespoons smoked paprika
2-3 tablespoons Tony Chachere's Creole Seasoning (you should be able to find this at your local grocery store)
Instructions
Sprinkle 1 tablespoon Creole seasoning onto the cut chicken, set aside.
In a large pan over medium heat, cook sausage until browned on one side, flip and add 2 tablespoons of olive oil and the seasoned chicken to the pan. Cook, stirring occasionally, about 5 minutes or until chicken is nicely browned on all sides. Remove sausage and chicken from pan and set aside.
Add one more tablespoon of olive oil and toss in the holy trinity (onions, celery and green bell pepper) along with the garlic. Saute for a couple of minutes stirring occasionally. Sprinkle with remaining Creole seasoning and paprika. Add stock, tomatoes and bay leaves and bring to a boil.
Add the rice, chicken and sausage along with any juices to the pan, returning to a boil before stirring and covering with a lid. Reduce heat to a simmer and let cook for 20 minutes undisturbed.
Sprinkle shrimp with either additional Creole seasoning if you like it spicy, or with salt, pepper and paprika.
Remove the lid and place uncooked shrimp on top of the rice in a single layer. Close the lid and let sit for an additional 5-10 minutes or until shrimp are pink.
Gently stir to combine all of the flavors and serve. Enjoy!