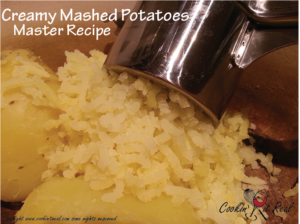 Pictured:  My favorite mashed potato tool…the POTATO RICER.  No Thanksgiving feast would be complete without a fantastic mashed potato dish to smother in turkey gravy.  Though never the star of the show, mashed potatoes  need to be substantial enough to hold their own against all the other fantastic flavors of the holiday.  With that in mind, I bring to you a "Master" recipe that you can either whip up "as is" to complement your traditional Thanksgiving meal, or spruce up with the simple addition of a few flavorful ingredients to turn them into a show stopper all on their own.  No matter which version you choose to make, I highly recommend that you stick with a Yukon Gold or similar  yellow potato.  The flavor difference between these little gems and other potatoes is undeniable. Enjoy!  Don't forget the Buttermilk Herb Brined Turkey and Ultimate Cranberry Sauce! 🙂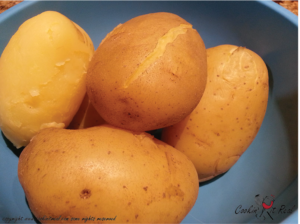 Cook potatoes unpeeled and let cool.  Skins literally slide off at this point.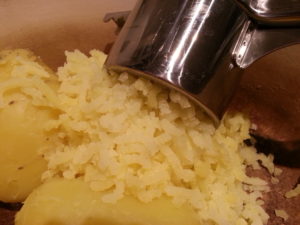 Around the holidays a potato ricer can be a girls best friend, making quick work of mashed potatoes.
TIPS:  Make them a day ahead minus the cream and milk.  Take them out of the refrigerator a couple of hours before serving.  If they are still cold, microwave for a minute or so and stir.  When you are ready to finish them, just pick up at Step 8 (incorporating warmed milk and cream).
Creamy Mashed Potatoes Master Recipe Plus Endless Variations
Prep time:
Cook time:
Total time:
Ingredients
2½ pounds Yukon Gold potatoes, rinsed
8 ounces cream cheese
one third cup heavy cream
one third cup milk
½ stick salted butter
salt and pepper to taste (don't skimp on the salt, I put at least 1 teaspoon)
TO CUSTOMIZE
Additional options to liven up your mashed potatoes and make them your own:
Roasted Garlic:
1 head roasted garlic
Cut top ¼ to ½ inch off of a complete head of garlic, pour olive oil over cut end and wrap in foil. Bake in 400 degree oven for 30-35 minutes. Just make sure the cloves feel soft...they should literally squeeze out of their skins ( I like to throw it into the oven when I am cooking something else to save energy.)
Chive and Crème Fraiche
Replace cream cheese with 1 cup of crème fraiche
Add 2 tablespoons chopped chives
Truffle
Add 1 tablespoon white truffle oil (start here, taste and adjust in small increments to desired intensity)
Sprinkle with cooked bacon bits for a little something extra
Cheesy
Add ½ cup Parmesan cheese, freshly grated
Buttermilk
Add ½ cup buttermilk
Delete heavy cream
Horseradish
Add 3 tablespoons prepared horseradish
Instructions
Leave potatoes unpeeled and place in a large pot with 1 tablespoon of salt and enough cold water to cover potatoes completely.
Bring water to a boil.
Reduce heat and cover partially. Simmer for about 35 minutes or until a fork poked into potatoes goes through easily.
Drain and let potatoes cool enough to handle. The skins will now "rub" right off. Throw out skins and cut potatoes into large pieces.
In a small saucepan, combine the heavy cream, milk and butter over low heat until butter has melted. Stir and set aside.
Now I prefer to use a potato ricer to "rice" my potatoes into a light and fluffy deliciousness. Otherwise you can use whatever tool you would normally use to mash your potatoes.
Once mashed, it is easiest to use an immersion blender to combine the riced potatoes and cream cheese until incorporated.
Add the milk/butter mixture that you warmed earlier and blend by hand until combined.
Add salt and pepper to taste.
Check for consistency at this point. If your potatoes are not creamy enough, add additional cream or milk in small increments until you reach the desired consistency.
I prefer mine to be on the thinner side at this point, because my potatoes always seem to sit for a while waiting for everything else to be ready. By the time you are ready to eat them, they will firm up a bit and be perfect. (Remember though, that it is easier to add more liquid in the end then to try and firm them up if they become too runny)
To keep them warm when not serving immediately, which is totally ok, and probably a good thing for the end result, keep them warm in a double boiler or a make shift one using a covered bowl over simmering water.
TIP: When I set them aside to stay warm, I always add a couple pats of butter to melt on top of the potatoes. I barely swirl the butter through the potatoes before serving so everyone gets a bit of butter glaze on top of their serving. Mmm!