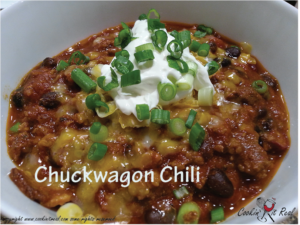 Whether you are tailgating or just hanging around the tv watching your favorite sport, chili is always the perfect game day dish. I like my chili with enough kick that I can feel the heat without needing to chug  my cold beer to cool it down…not that there's anything wrong with that!  The great thing about chili is that it is infinitely adjustable.  Start mild and add heat slowly until you get the perfect kick. I use medium hot chili powder to get just enough heat, but you can achieve the same results by adding cayenne pepper in small increments during the cooking process. If you can't find the right spices, I always get mine from www.Penzeys.com.  Even better served with my family secret Killer Cornbread!

Chuckwagon Chili
Prep time:
Cook time:
Total time:
Ingredients
6 slices bacon, cut into ¼ inch pieces
6 cloves garlic, minced
1 medium onion, minced (approximately 1 cup)
1-2 jalapeno peppers, seeded and chopped
3 tablespoons chili powder (I use medium hot) If you use a milder version, add cayenne pepper to add more heat if desired.
1 tablespoon cumin
1 teaspoon coriander
1½ teaspoons chipotle powder
2 teaspoons Mexican oregano
2 teaspoons smoked paprika
3 teaspoons salt
½ cup water
1 pound ground beef
1 pound ground pork
1 bottle beer (your choice)
3 cans beans (your choice) I use 2 cans black beans and 1 can kidney beans
24 ounce can crushed tomatoes with juice
1 can fire roasted diced tomatoes (can be with chilis)
1 tablespoon beef bouillon base (I love the stuff you can find at Costco in the spice aisle)
1 can tomato paste
Instructions
Mix chili powders, cumin, coriander, oregano, paprika and salt in a small bowl with ½ cup of water to form a thick paste. Set aside.
Fry the bacon in a large Dutch oven over medium heat until slightly crispy.
Add onion, garlic and jalapeno. Cook until onions are tender.
Add the spice paste that you made at the beginning and stir to blend ingredients and until fragrant.
Add the beef and pork, breaking it up with a wooden spoon.
Once the meat is cooked through, stir in the beer and beans.
Add crushed tomatoes, diced tomatoes, beef bouillon and tomato paste. Mix well.
Bring to a simmer and cook for about 2 hours.
Adjust seasoning with salt and freshly ground black pepper if needed.
For best flavor, refrigerate overnight and reheat before serving.
Garnish with grated cheese, sour cream and green onions.
Serve with your favorite corn bread or warm buttered French bread...mmm! Enjoy!