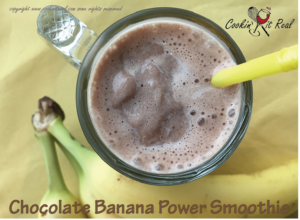 For years I have been making smoothies for my kids as afterschool snacks…trying to create one that they would actually ask for again.  Wouldn't think it would be that difficult. Finally I have succeeded!  This recipe makes a great afterschool pick me up and gets them set for whatever comes their way before dinner.  It will easily make two servings, so there is always a little left for me!  I also add flaxseed meal…just to give it an extra little boost of fiber and omega-3 fatty acids.  They never even know it! 😉  Revision 9/2016 To change up our old favorite, we added a spoonful of peanut butter to our afterschool smoothie and LOVE the outcome!  It was great before, but now it has umami which is one of our five basic tastes…sweetness, sourness, bitterness, saltiness and umami.  Umami literally means delicious taste in Japanese.  So start blending and enjoy the "delicious taste."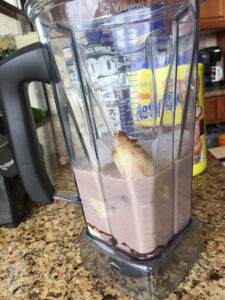 Just throw everything into the blender!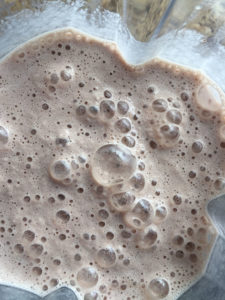 Blend until smooth. Add more ice if you need to.
Chocolate Banana Power Smoothie
Prep time:
Cook time:
Total time:
Ingredients
1½ cups milk (I use 1% milkfat)
1 large or 2 medium to small bananas
4 tablespoons chocolate milk powder (I use Nesquick)
2 tablespoons vanilla protein powder
1 tablespoon peanut butter
14-16 ice cubes (depending on how slushy you like it)
1 tablespoon Flaxseed meal (optional)
Instructions
Add all ingredients to blender.
Blend on high speed for 30-45 seconds or until well blended and frothy.
If it isn't slushy enough for you, add two ice cubes at a time until you achieve your desired consistency.
Enjoy!