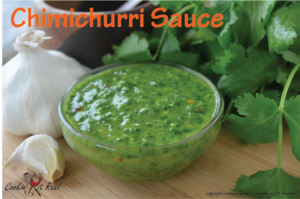 Chimichurri just may be the most versatile sauce ever created!  Not familiar with chimichurri?  Well let me help!  Chimichurri loosely translated means a mixture of several things in no particular order.  Let's just say you have to taste it to believe it.  The possiblilities are endless when you add a little chimichurri  to your favorite dishes. It is spectacular topping off garlic crostini with grilled steak or atop a slice of manchego cheese.  Char a steak, grill some chicken or sear some tuna and top it with chimichurri.  Add to good quality olive oil and dip chunks of French bread, drizzle over potatoes or toss with pasta or grilled veggies.  Top a fried egg,  your favorite burger or mix with mayo and spread it on everything.  You're gonna LOVE it!  Plus it's super easy to make…what are you waiting for? 🙂

Chimichurri Sauce
Prep time:
Cook time:
Total time:
Ingredients
¾ cup parsley, firmly packed
½ cup cilantro, firmly packed
3 garlic cloves
1 green onion
1 tablespoon fresh oregano or 1 teaspoon dry oregano
½ teaspoon salt (or to taste)
2-3 tablespoons white vinegar (personal preference, I actually add 2 Tb + 1 tsp)
⅓ cup good quality olive oil
¼ teaspoon crushed red pepper flakes
Instructions
With the motor running add garlic to a food processor until finely chopped. Scrape down the sides of bowl and add remaining ingredients to processor. Pulse until all ingredients are finely chopped.
Taste for seasoning and add more salt if needed. If you have an hour to let the flavors meld, it will be even better.
Drizzle on everything and enjoy!