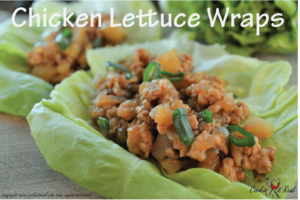 Your first thought might be, they couldn't possibly be as good as the lettuce wraps at PF Chang's?  The answer is NO, they're not…THEY ARE SO MUCH BETTER!!  And so easy to make!  It is all in the sauce, baby.   To make them is to love them.  So go ahead…this quick and easy dinner is calling your name! 

Chicken Lettuce Wraps
Prep time:
Cook time:
Total time:
Ingredients
1 pound ground chicken (could use ground turkey, but I have not)
2 tablespoons canola oil for frying
3 garlic cloves, minced or grated
2 tablespoons fresh ginger, grated
½ onion, small dice
¼ cup Hoison sauce
¼ cup soy sauce (I use reduced salt)
3 tablespoon rice wine vinegar
1 tablespoon ketchup
2 tablespoons chili garlic sauce
1 can water chestnuts (I buy the sliced ones), chopped
1 teaspoon sesame oil
salt to taste
1 head butter lettuce or bibb lettuce
3 green onions
Instructions
Add oil and ground chicken to a large skillet. Cook over medium-high heat until half done then add onions. Cook through, crumbling chicken. Turn heat to low.
In a small bowl, stir together garlic, ginger, hoisin sauce, soy sauce, rice wine vinegar, ketchup and chili garlic sauce. Pour over the chicken and stir to combine. Stir in the water chestnuts, green onions and sesame oil and season to taste with salt. Warm through.
Spoon the chicken mixture into the center of each lettuce leaf. Serve immediately and enjoy!