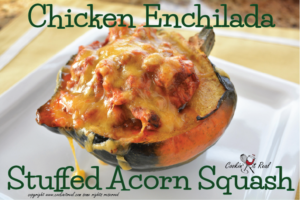 So you all know how much I LOVE Mexican food!  Add to that,  that I am a HUGE fan of anything sweet and salty/spicy and you will understand why I am so excited about this recipe!!!   Acorn squash is really great all by itself roasted with a little butter, sugar and a few spices.  Top that off with some spicy (if you like it that way) enchilada inspired chicken and you'll be knocking everyone's socks off! This is the perfect way to ring in the cooler weather.  I'm calling it comfort food with a kick!  The one mistake I did make is not enough enchilada sauce to drizzle around the plate.  We did also eat it atop a bed of my Mexican Rice which was the perfect accent to the dish. 
There are lots of ways to change this up to your liking:
Go Vegetarian-instead of chicken, mix corn and diced red bell peppers in with the onions.  Make the Mexican rice and add it to the veggies and sauce before stuffing into the squash.
Instead of Chicken, use pork, ground beef or ground turkey.
Kick up the heat by adding some extra cayenne pepper.
Change up the flavor of the peppers by adding Chipotle Tobasco sauce to spice it up.  Not enough, add a few dashes of ground chipotle to boot.
Not a fan of cheddar cheese?  Top it off with Monterey Jack or better yet, Pepper Jack cheese.
Think bigger is better?  Why not start with a Butternut or Spaghetti squash. (Check out my guide to winter squash for alternate prep ideas)
So let's get this recipe fired up!  Have some fun making it your own…and ENJOY!
Chicken Enchilada stuffed Acorn Squash
Prep time:
Cook time:
Total time:
Ingredients
2 Acorn squash, washed, halved and seeded
3 tablespoons olive oil
2 tablespoons brown sugar
¼ teaspoon kosher salt
10 grinds pepper
⅛ teaspoon cayenne pepper (or more if you like it spicy!)
⅛ teaspoon ground cumin
2-2½ cups shredded rotisserie chicken
¼ onion, diced
½ can mild or hot diced green chiles (or 1 poblano pepper, diced)
3 garlic cloves, grated or minced
1 teaspoon ground cumin
1 15 ounce can of your favorite enchilada sauce
2 tablespoons cilantro, chopped
1 cup shredded cheddar cheese
Instructions
Preheat the oven to 400 degrees F.
Cutting the acorn squash can be a real bear...insert a big knife into one of the ridges or "ribs" near the stem, pulling it slowly down the side of the squash until you get to the bottom. Turn the squash around so your knife is at the top and continue cutting down the other side until you get back to the stem. Good luck trying to cut the stem in half, so at this point you can just try and pull the halves apart.
Combine the olive oil, brown sugar, salt, pepper, cayenne and cumin. Spoon into each squash half and using a spatula, make sure that all of the exposed flesh is nicely coated.
Bake the squash on a baking sheet cut side up for about 40 minutes until fork tender. Remove from oven and let cool slightly. Swirl the juices around the flesh and discard any extra liquid.
In a medium pan over medium heat, saute onions and garlic until softened. Add the green chiles, cumin and enchilada sauce. Salt to taste.
Add the chicken and simmer for 5 minutes. Stir in chopped cilantro and heap into each acorn squash half. Top with cheese and bake until cheese is nicely melted. Serve over a bed of Mexican Rice with extra enchilada sauce if desired.