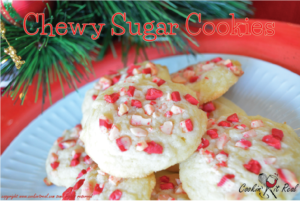 Don't want to fuss with cookie cutters but still want to have some fun making festive holiday cookies?  Then look no further!  This cookie is everything you are looking for.  It's chewy, vanilla-y  and perfectly tasty all on its own…but why not jazz it up a little.  The endless possibilities for decorating include sprinkles, candy bits, food coloring, colored sugar, chopped toasted nuts, heath bar toffee pieces.  Take your pick!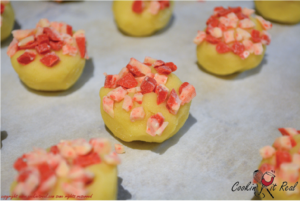 Chewy Sugar Cookies
Prep time:
Cook time:
Total time:
Ingredients
2½ cups all purpose flour
1½ cups granulated sugar
1 teaspoon baking powder
½ teaspoon salt
1 egg plus one egg yolk
2 teaspoons vanilla extract
2 stick butter, softened
Your choice of sprinkles, etc
Instructions
Preheat oven to 350F.
Prepare your cookie sheets with parchment paper to keep the cookies from sticking and for easy clean up.
Cream together the butter and sugar until light and fluffy. Beat in the eggs and vanilla extract. Add in the dry ingredients and mix until just blended.
Using a small cookie scoop or tablespoon form rounded balls of dough.
If adding sprinkles or sugar pour some into a shallow bowl, gently press each dough ball into the toppings, at the same time squishing the top of each ball to flatten slightly. Place cookies on the lined cookie sheet 2 inches apart.
Bake for 8-10 minutes until edges are lightly browned.
Remove from oven and allow to cool for 2 minutes before transferring to a wire rack to cool completely.