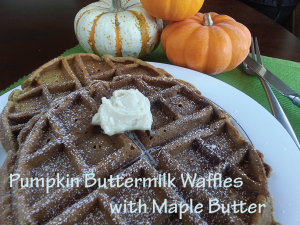 Some of my fondest childhood memories involve carving pumpkins at Halloween.  Back then, carving pumpkins was as close as I ever got to eating them, unless of course you were talking seeds.  It wasn't actually until my son raved about the amazing pumpkin bread he had eaten at preschool one day (many years ago) that the thought of adding pumpkin to anything even crossed my mind.  So after many years of pondering using pumpkin in my cooking, I am finally cooking with this crazy fruit.  Yes, you read that correctly, FRUIT.  In fact, it is actually of the berry family.  I couldn't believe it either! 
With that said, I am having fun experimenting with pumpkin on my kids.  Some of those experiments  you will see here in the form of a tasty recipe like these waffles, and others are better left alone.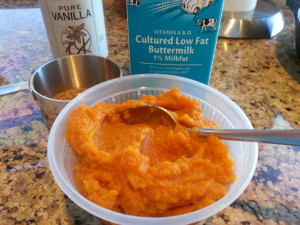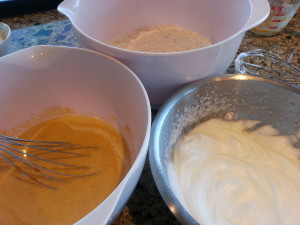 Pumpkin Buttermilk Waffles with Maple Butter
Prep time:
Cook time:
Total time:
Serves:
approx 6-8 waffles
Ingredients
2½ cups flour
½ cup brown sugar (whatever kind you have on hand)
2 teaspoons baking soda
¾ teaspoon salt
2 teaspoons cinnamon
½ teaspoon ground cloves
½ teaspoon nutmeg, freshly grated or ¾ teaspoon ground nutmeg
3 large eggs, separated
1½ cups buttermilk, shaken (more if batter needs thinning)
1½ cups pumpkin puree
1 teaspoon vanilla extract
¼ cup butter, melted
Instructions
Oil your waffle iron and turn it on.
Add the dry ingredients in one bowl, whisking to combine them well.
Separate the eggs, placing whites in a small bowl to whip them in later.
Place pumpkin, egg yolks, buttermilk and vanilla in a medium bowl and blend using a whisk until well combined. (A thinner batter will give you a crispier waffle, now would be the time to add more buttermilk if desired.)
Whip the egg whites using a hand mixer or whisk until they form stiff peaks. (make sure not to use a plastic bowl or to leave any trace of yolk in with the whites or it will make it difficult to achieve stiff peaks.) How long totally depends on your mixer. Typically 1-3 minutes should be sufficient.
Pour the melted butter into the bowl with the other wet ingredients. Whisk to combine.
Add the dry ingredients to the pumpkin mixture and stir them until just incorporated.
Carefully add the whipped egg whites to the final pumpkin mixture. Be gentle here and "fold" the whites in until you achieve a mixture with uniform color.
Now you are ready to make some waffles! Every waffle maker will have a little different temperature setting and therefore different timing.
Turn oven on to 200 degrees and place cooked waffles onto rack as you finish cooking them. Bake for 5 minutes to crisp.
  Now for the

Maple Butter

.  This stuff is so tasty you are going to wonder how you ever got along without it!
1/4 cup salted butter, softened
1/8 cup maple syrup
Using a hand mixer, whip butter in a small bowl.  Add maple syrup and continue to whip until incorporated.  If you need more maple than this, either whip extra in with the butter, or simply pour all over your waffles!  Enjoy!