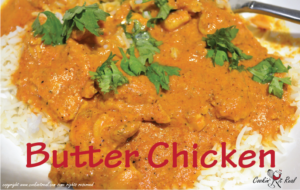 I have been wanting to make this popular Indian dish for years!  So bummed that I didn't do it sooner.   We are talking fantastic flavors that just don't stop. ..and if you prefer a little more heat, you can easily kick it up.  The best part is the extra sauce.   It perfectly melds with the rice leaving every bite full of incredible flavor.  I'm a little disappointed with my picture though.  Forgot to take it until after we sat down to dinner and my boys were already half way done and wanting more!   Stay tuned for an updated pic soon because I know this dish will become a regular at my house.  Enjoy, and have some fun trying new and different ethnic flavors…try not to let it take you as long as it did me to get there! 😉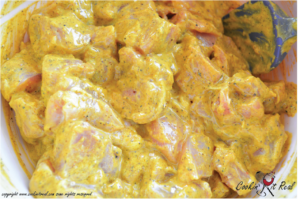 Marinate chicken. Cover and refrigerate for 2 hours or up to 24 hours.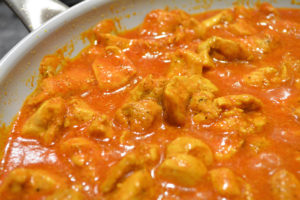 Butter Chicken
Prep time:
Cook time:
Total time:
Ingredients
1 to 1½ pounds boneless, skinless chicken thighs cut into bite size pieces
2 tablespoons olive oil
1 teaspoon turmeric
2½-3 teaspoons garam masala
1 teaspoon chili powder
a pinch or two of cayenne if you want to add some heat (a little heat really adds to it)
1 teaspoon cumin
½ teaspoon granulated garlic
¼ teaspoon Kosher salt or a little more table salt
1 inch piece of fresh ginger, grated
1 tablespoon lemon juice
½ cup plain Greek yogurt
1½ cups tomato sauce
2 teaspoons sugar
1 teaspoon salt
pinch or two of cayenne pepper (this time for the sauce)
¼ cup milk
¼ cup heavy cream
cooked rice (I prefer Basmati)
cilantro to garnish
Instructions
In a small pan over low heat, warm the olive oil and dry spices until fragrant. (about 2 minutes) Do not allow them to burn! Set aside.
In a bowl, thoroughly combine the Greek yogurt, lemon juice, ginger and spice mixture that you heated. Add the chicken, stirring to make sure that all pieces are evenly coated. Cover and refrigerate for 2 hours or up to 24 hours.
In a large frying pan, heat some oil over medium high heat and add marinated chicken along with any remaining marinade. Cook until no longer pink (about 3 minutes).
In the pan, combine the tomato sauce, sugar, salt and cayenne with the chicken. Let simmer over low heat for 20 minutes.
Warm the milk and cream in the microwave for 15-20 seconds. Stir into the chicken and remove from the heat.
Finish the dish off over a bed of basmati rice with a sprinkling of fresh cilantro and enjoy!