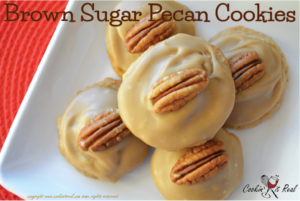 It's officially cookie time…and who doesn't love a great new holiday cookie recipe.  These cookies are buttery and nutty (especially if you choose to toast the pecans before mixing them into the dough).  The piece de resistance is the fabulous brown sugar (mapley if you want) icing that perfectly finishes these little gems with a buttery brown sugary goodness that will give you goose bumps!  They look much fancier than the effort required to make them…which I love!  And you can mix and match the nuts.  My suggestion would be pecans or walnuts because they are so flavorful when toasted, they scream "holiday" and they just look so great on top.  Bake them up for your next cookie exchange and they will be the hit of the party! Enjoy.
Brown Sugar Pecan Cookies
Prep time:
Cook time:
Total time:
Ingredients
For the Cookies:
1 cup butter, softened
½ cup granulated sugar
½ cup brown sugar, packed
1 egg
1 teaspoon vanilla extract
2 cups four
½ teaspoon baking soda
½ teaspoon salt
½ -3/4 cup finely chopped toasted pecans (best done in the food processor or blender)
24-36 additional pecan halves, toasted, for topping each cookie
For the Frosting:
1 cup packed brown sugar (I prefer dark brown)
¼ cup milk
½ cup butter
½ teaspoon vanilla extract
3-6 drops maple flavor (find it where the other extracts are...totally optional, but totally amazing!)
2 cups powdered sugar, sifted
Instructions
Toast the nuts briefly...preheat the oven to 350F. Line a baking sheet with parchment paper. Spread the whole nuts out in a single layer. Bake 5-10 minutes until they become a shade darker. Allow to cool.
Combine the flour, baking soda and salt in a bowl.
Using a stand mixer, beat the sugars and softened butter until they become light and fluffy. Add the egg and vanilla and beat again until mixed.
Add the flour mixture and finely chopped pecans to the mixer bowl and mix on low speed until combined. Cover and refrigerate for one hour.
Preheat the oven to 350F. Shape the dough into approximately 1 inch balls. I really like to use my cookie scoop for this. Place them on a baking sheet lined with parchment paper. Bake for about 10 minutes. The cookies are done when they are very lightly browned on the outside edges and the centers are no longer shiny. Make sure to cool the cookies before frosting.
For the frosting:
Melt the butter over high heat-just to a boil. Add the brown sugar and boil again. Immediately reduce to low heat and boil gently for 2 minutes, stirring constantly.
Add the milk, vanilla and optional maple flavor and boil again, stirring constantly.
Remove the pan from the heat once it has reached boiling and cool to lukewarm. (just a few minutes)
Gradually add the sifted confectioners sugar and whisk until it becomes smooth and spreadable. The more you allow the icing to cool, the thicker it will become. Be sure to stir it occasionally once you begin icing the cookies to keep a nice smooth consistency.
Spread about a tablespoonful onto each cookie and top with a pecan half. Allow icing to set before storing.