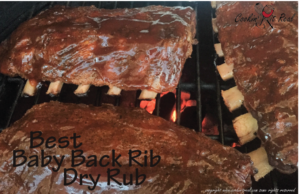 Fire up the grill!  When it's time to do some serious grilling, we bring out the big guns!  Ribs, ribs and more ribs!  The best advice I can offer when it comes to making the most amazing ribs ever is cook it LOW, SLOW and smother it in DRY RUB.  The end result, super flavorful fall off the bone to die for ribs.  Finish with a slathering of your favorite bbq sauce and let it caramelize on the grill for a couple of minutes and you've got a meal you won't soon forget!  Happy grilling!

Baby Back Rib Dry Rub
Ingredients
1 tablespoon ground cumin
1 tablespoon smoked paprika
1 tablespoon granulated garlic
1 tablespoon granulated onion (toasted if you can find it)
1 tablespoon chili powder (I prefer medium heat)
1-1/2 tablespoons brown sugar
2 tablespoons kosher salt
1 teaspoon cayenne pepper (Like it with a kick, add another ½ teaspoon)
1 teaspoon black pepper
Instructions
Add all ingredients to an airtight container. Seal, shake to combine and sprinkle GENEROUSLY on both sides of ribs.
Cover and allow ribs to sit in the refrigerator for at least 2 hours. Overnight if you can.
BBQ ribs and enjoy!