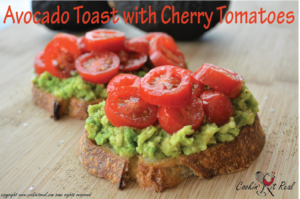 Avocado toast…SO trendy because it is SO tasty!  Throw in SO simple to make and you've got a winner!  The crazy thing is how many different ways you can top it and get a completely different taste experience.  That alone should make it worth a try!  Here are just a few options beyond this recipe.  Of course, always start with the avocado and season it with good salt and fresh cracked pepper.
Then go crazy and top it with:
smoked salmon and red onion                                                                     bacon and goat cheese
bacon and scrambled eggs                                                                             crushed tortilla chips and salsa
a hard boil egg                                                                                                  tomatoes and basil
feta cheese and scallions                                                                                roasted corn, crumbled Mexican cheese & cilantro
goat cheese                                                                                                        top with chili flakes
Pico de Gallo                                                                                                     a fried egg
NEED I SAY MORE?
Avocado Toast with Cherry Tomatoes
Ingredients
4 slices crusty rustic bread
1-2 avocados, mashed (depends on how big your toasts are!)
½ cup sliced cherry tomatoes
1 tablespoon good olive oil
salt and pepper
Instructions
Slice up the rustic bread and toast.
Divide the mashed avocado among the four slices of toast.
Slice cherry tomatoes and place in a small bowl along with olive oil. Toss to coat tomatoes. Season with salt and pepper to taste.
Place equal amounts of tomatoes on each toast.
Garnish with crushed red pepper if looking for a little spice.